Michael Gove sparks anger after appearing to backtrack over post-Brexit live animal export ban
The Independent
12/09/2018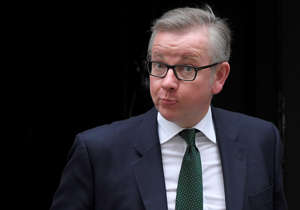 © Reuters Michael Gove, Britain's Secretary of State for Environment, Food and Rural Affairs leaves a cabinet meeting at 10 Downing Street in London, September 21, 2017. REUTERS/Toby Melville The government has appeared to backtrack on a key post-Brexit suggestion to ban the export of live animals for slaughter, angering politicians and animal rights campaigners. 

Michael Gove launched a consultation into a ban earlier this year, promising to deliver policies that "respect and care" animals and raising the prospect of ending the export of thousands of live farm animals to mainland Europe.
Download the all-new Microsoft News app – available now on iOS and Android
But on Wednesday the environment secretary would only commit to "restrictions" on the practice.

"I am minded to restrict them yes, and I'm looking at the evidence to see how we can make appropriate, or take appropriate steps," Mr Gove told BBC Radio 4's Today programme.
© Provided by Independent Digital News & Media Limited Asked directly whether he was still minded to ban it, he said: "I'm minded to take every step we can in order to ensure that we restrict animal exports and that we safeguard animal welfare."

Pressed on the issue, the environment secretary insisted "all options are on the table", without ever using the word "ban".
Caroline Lucas, MP and former leader of the Green Party, accused the Tories of delivering a Brexit "built on lies".
"This Tory Brexit is built on lies."
Brexiteers promised a ban on live animal exports.

Now @MichaelGove says it won't happen.

This Tory Brexit is built on lies.

We urgently need a #PeoplesVote https://t.co/P5bV2E59hR

— Caroline Lucas (@CarolineLucas)

September 12, 2018
James West, senior policy manager at Compassion in World Farming, said he was "concerned" Mr Gove appeared to be "backtracking on his live export commitment".
"On numerous occasions, Michael Gove has spoken about how the government are considering stopping live exports for slaughter," he said. "This morning, when pressed, he repeatedly used the word 'restrict'. The campaign to stop live exports is one that has run for many years, and an issue people feel very strongly about.
"It will be a major disappointment to the majority of British citizens if the government abandon their plans."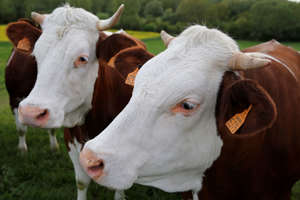 © Reuters Cows stand in a field Labour's shadow environment minister, David Drew, said: "Michael Gove is back pedalling on his promise to ban live exports. We are demanding that Michael Gove now clarifies the government's position on banning live exports."

Official figures show that each year at least 4,000 sheep are transported from the UK to Europe for slaughter, with an estimated 6,000 calves exported from Northern Ireland, despite government documents admitting "all forms of transport may have negative effects on the animal's welfare".
Current European single market rules currently prevent the UK from banning the live export of animals, which accounts for only a small proportion of Britain's £2.4bn trade in meat and livestock with the EU.
Campaigners celebrated when in April, Mr Gove held a public consultation on the proposed live export ban. They had battled for years to highlight the cramped, unnatural conditions on export trucks during long journeys with insufficient water in often sweltering temperatures.
© Reuters Britain's Secretary of State for Environment, Food and Rural Affairs Michael Gove leaves 10 Downing Street in London, June 7, 2018. REUTERS/Toby Melville Mr Gove's about-turn came after environment and food officials asked advisers on the Farm Animal Welfare Committee (FAWC) to review the conditions animals are subjected to during long-distance live transport and to make recommendations on improving them. 

Campaigners said this raised suspicions the government may be backing away from a ban on the "cruel and completely unnecessary" practice.
Ministers are also facing pressure from the Scottish government, which opposes a ban. Scottish farmers regularly send young, unweaned calves to countries such as Spain on journeys lasting 100 hours or more, and Scotland's rural economy secretary Fergus Ewing says a ban would cause "substantial harm" to the nation's livestock sector.
Defra has been contacted for comment.