Morning Briefing: November 1, 2018 (THURSDAY)
Good morning. Here's what you need to know to start your day with our daily briefing, compiled by Meeqat Hashmi.
Organised crime cost UK at least £37bn every year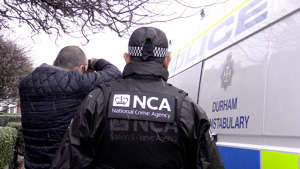 © PRESS ASSOCIATION National Crime AgencY Organised and serious crime have a more significant impact on UK citizens than all other national security threats combined. The activities of around 4,600 serious and organised crime groups cost the country at least £37bn every year, according to the National Crime Agency, up from £25bn five years ago. (Sky News)

Medical cannabis products now available on prescription in UK
Doctors will be able to prescribe cannabis products to patients in the UK from today. Home Secretary Sajid Javid announced last month that new regulations would come into force on Thursday. The move follows several high-profile cases, including that of young epilepsy sufferers Alfie Dingley and Billy Caldwell, whose conditions appeared to be helped by cannabis oil. (Press Association)
Oceans warming faster than 'estimated'
Climate change is rapidly warming the world's oceans. The warmer waters also cause sea levels to rise and make extreme weather events like hurricanes more destructive. If scientists can more accurately measure the speed at which oceans are warming, they can better predict the future effects of climate change. (The New York Times)
Third of Britons have 'stopped or reduced eating meat'
One in eight Britons is now vegetarian or vegan, according to a new report on food shopping that underlines a revolution in the UK's eating habits. A further 21% claim to be flexitarian, where a largely vegetable-based diet is supplemented occasionally with meat, which means a third of UK consumers have deliberately reduced the amount of meat they eat or removed it from their diet entirely. (The Guardian)
Essex village outraged after being used in pro-Trump election ad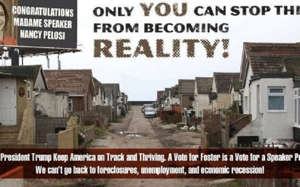 © Facebook The Nick Stella for Congress Facebook page posted this picture of Jaywick According to an image circulated widely online, a bleak picture of Jaywick Sands showing unpaved roads and dilapidated homes was posted to the Facebook page of Republican Nick Stella, who is running for Congress in Illinois. The image attacks Stella's Democrat opponent, and also had a caption reading: "Help President Trump keep America on Track and Thriving. (HuffPost UK)
In Depth: Why is art so expensive?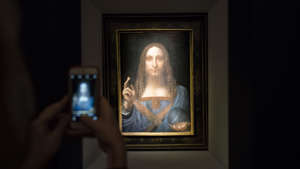 © Getty A visitor takes a photo of the painting "Salvator Mundi" by Leonardo da Vinci at Christie's New York auction house. The painting sold for more than $450 million in November 2017. Why is art so expensive? The short answer is that most art isn't. Pieces sold for six and seven figures tend to make headlines, but most living artists' works will never sell for that much. (Vox)

Video of the day: Couple's world records for running marathons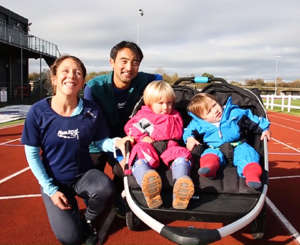 © SWNS Couple who struggled to juggle childcare and jogging have world records for running marathons A couple who struggled to juggle childcare and jogging started taking their kids in a buggy - and now both have world records for running pram marathons. Dr David Bruce, an orthopaedic surgeon, and wife Jessica, loved to run but found it difficult making time for their hobby when their children were born. (SWNS)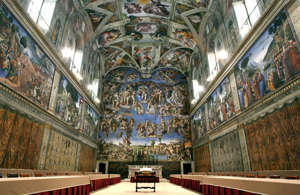 © AP FILE - In this April 16, 2005 file photo, tables and chairs line the Sistine Chapel at the Vatican in preparation for the conclave. The Vatican Museums, famed for Michelangelo's ceiling in the Sistine Chapel and masterpieces by Raffaello, are offering an early-bird special, and have posted on their website a new guided itinerary that starts at 6 a.m. and finishes with a light breakfast of croissants, juice and coffee. (AP Photo/Pier Paolo Cito, File) 1512: Four years in the making, Michelangelo's masterpiece covers over 5,000 square feet of the papal chapel's arched ceiling. The depictions of hundreds of human figures in various poses will be hugely influential for centuries to come. (Bing)

For more of the most popular News, Sport, Lifestyle & Entertainment on MSN, Follow us on Facebook, and on Twitter