Novichok 'could have been smuggled into UK through airport' in container discovered by Charlie Rowley and Dawn Sturgess
The Independent
12/07/2018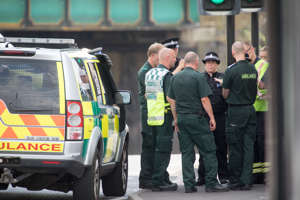 The novichok that killed Dawn Sturgess could have been smuggled into Britain through an airport in a "discreet" container, it has been revealed.
The Independent understands that her partner Charlie Rowley has been told of her death after regaining consciousness in hospital, where his brother described his appearance as "like a skeleton".
Investigators have not yet recovered the container of novichok the couple unwittingly handled, raising public health fears in Wiltshire.
Police are investigating whether it was the same weapon used against Sergei Skripal and his daughter Yulia in Salisbury four months ago.
A senior government scientific source said the nerve agent was "exactly the same" in both incidents.
"We know it's the same chemical, what we don't know at the moment is whether it's from the same batch," he told journalists including The Independent.
Scientists at the Porton Down defence laboratory will only be able to look for trace impurities that act as a chemical "fingerprint" if police find the container handled by Ms Sturgess and Mr Rowley.
Novichok's potency means that "we're dealing with tiny amounts" that could be carried in a small glass or plastic container, the source said.
Asked whether the nerve agent could have been brought in through a UK airport undetected, he replied: "It could be…it's a small volume and it's not difficult to think you might be able to conceal that.
"We're not talking about gallons of the stuff, we're talking about a very small amount and therefore it's a very discreet container potentially."
The source said "all sorts" of glass or plastic containers could safely contain novichok, but whoever originally administered it would have to be "highly trained".
"You're not going to be sloshing this around, splashing it on and hoping," he added.
"You would put it in a sealed container that you would handle extremely carefully, and you would have a way of administering it which avoided the person coming into contact with it…they would be highly trained."
The difficultly of synthesising novichok, which was first developed by the Soviet Union, and danger of administering it are among the factors cited as indicators of Russian responsibility by the British government.
The Kremlin has denied any involvement in the attack on former double agent Mr Skripal, or the Amesbury incident, and Russian state media has reported on a series of conspiracy theories.
But declassified British intelligence states that in the 2000s a covert Russian programme trained agents in "ways of delivering nerve agents, including by application to door handles" – the method used to attack Mr Skripal.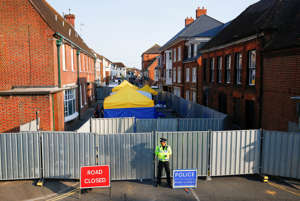 The senior government scientific source would not attribute responsibility for either incident but noted: "You don't make this stuff in a shed, you make it in a fully equipped high-containment chemistry facility with experienced chemists.
"As far as I'm aware it's a Russian thing and the Russians have got it."
Investigators have not yet established where Ms Sturgess and Mr Rowley found the container, and police will seek to interview the patient in more detail as he recovers at Salisbury District Hospital.
If the couple received a similar dose of novichok to the Skripals, they are likely to have been exposed several hours before they fell ill on 30 June, possibly while spending the previous evening in Salisbury.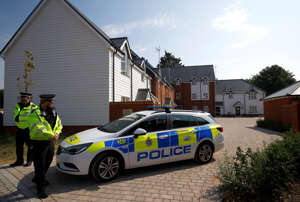 Police have admitted that they cannot offer absolute guarantees for public safety as the hunt for the container continues, while local residents have been told not to pick up anything containing a liquid or gel.
Several areas of Salisbury and nearby Amesbury have been cordoned off and will be decontaminated if any traces of novichok are found.
The source said that while the nerve agent will remain active in a sealed container "for a number of years" – even just as a residue - there is little risk from the wider environment.
"In an open environment it will very quickly become diluted [by rainwater] to a level which is not harmful, so I don't think there's a general environmental issue," he explained.
UK Man Conscious Following Novichok Exposure, Hospital Confirms: Provided by Newsy
"That's why concentrated source would have to be in some kind of sealed container, it couldn't just be lying around somewhere in the open uncontained because it would be washed away."

Ms Sturgess and Mr Rowley did not visit any of the locations decontaminated following the Skripal incident, which were tested for amounts of nerve agent 100,000 times lower than would have any effect before being reopened to the public.
Novichok, which attacks the nervous system and can lead to respiratory failure and cardiac arrest, can be absorbed through the skin, inhaled or ingested.
Anyone exposed to it can be treated with an antidote if they are seen early enough, or the body can recover by naturally regenerating the enzyme that novichok attacks.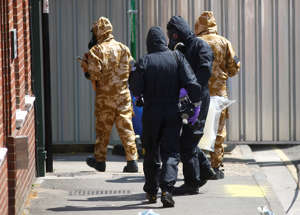 The source said it was "very difficult" to know why Ms Sturgess died but Mr Rowley's condition is improving, explaining that recovery can be affected by the original dose, medical treatment and the patient's previous state of health.
Mr Rowley's brother, Matthew, said the 45-year-old looked "like a skeleton" after visiting the intensive care unit at Salisbury District Hospital.
"It's quite shocking to see him first of all because he's not the Charles I know," he told ITV News. "But he is awake and he is talking, making sense but he is like a skeleton at the moment.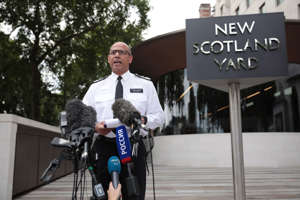 "He is eating now, solid foods, as where he was on liquids for nine days, hence him losing weight.

"He couldn't really keep his head off the pillow, but we managed to have a bit of a laugh together. I've never seen so many machines."