Oldest Briton dies aged 113! Former nurse Bessie who was born in 1904 and survived FIVE monarchs on the throne passes away just six weeks before her 114th birthday

Daily Mail
24/05/2018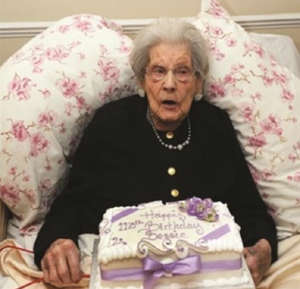 © Provided by Associated Newspapers Limited Bessie Camm was a nurse and once cared for William Hague. She has died just six weeks before her 114th birthday Britain's oldest person has died just six weeks short of her 114th birthday. 
Bessie Cam, 113, was officially crowned the oldest Brit in July 2016 when the last person to have the crown died.
The former nurse born in North Yorkshire on June 20, 1904, died at a care home in Rotherham. 
Arthur Balfour was Prime Minister when Bessie was born, and she has seen twenty since.
Bessie who was the tenth oldest person in the world attended a Quaker School before qualifying as a nurse in 1926 at Darlington Hospital. She went on to become a ward sister and then a theatre sister at Montagu Hospital in Mexborough. 
Bessie worked as a Matron at Richmond Hospital, North Yorskhire, during the Second World War.
Video: World's oldest person dies in Japan aged 117 (PA)
Bessie married metallurgist - or scientist specialising in metal - John Camm shortly before the outbreak of the Second World War, but they never had children. John died in 1972. 
One of her most famed patients was former Conservative leader William Hague. 
Once asked what the secret to long life was, she replied: 'Hard work, knowing lovely people and good food. I had a good life as a nurse.' 
According to the Oldest in Britain website, the oldest living person is now Olive Evelyn Boar, of Felixstowe, who is 113 years old.