Paul Hollywood brother-in-law's fatal plane crash: second Brit named

Evening Standard
11/01/2019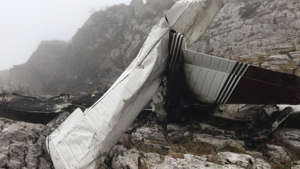 © PA Images The aftermath of the crash

The identity of the second Briton killed in a Spanish air crash which claimed the life of Paul Hollywood's brother-in-law was revealed today.
David Hockings was the registered owner of the Piper Arrow III that crashed in thick fog near the Basque country town of Errezil as it headed for the nearby coastal resort of Hendarribia.
Very sad - two well-known pilots in UK light aviation, Simon Moores and David Hockings. We'll miss both of them. Our thoughts go out to their families. https://t.co/ge5UxwVi7h

— Flyer (@Flyer_Magazine) January 11, 2019
The 67-year-old from Hailsham, east Sussex, ran an aircraft maintenance company with his wife Tatyana.
Download the Microsoft News app for your Android or iPhone device and get news & live updates on the go.
The other occupant of the light aircraft was named yesterday as 62-year-old Simon Moores, the brother of the Great British Bake Off star's estranged wife Alex, 54.
Contact was lost with the plane shortly after 1pm on Wednesday and the alarm was raised after a local heard an explosion.
Read more: Safest (and least safe) airlines revealed (The Independent)
One of the victims' bodies was recovered by search and rescue teams later the same day and the second yesterday morning.
Mr Moores and his flying companion Mr Hockings had left Tires Airport near Cascais in Portugal around 9am on Wednesday.
© Provided by Local News RSS EN-GB David Hockings

They were due to fly to Biarritz in France but changed their route to San Sebastian near Spain's border with France instead for refuelling reasons.
Local reports said the pair had been on a work trip to the Portuguese capital Lisbon and were heading back to Britain.
© Provided by Independent Digital News & Media Limited Paul Hollywood's brother-in-law was killed in the accident (Danny Lawson/PA Archive/PA Images) On the day he died, Mr Moores posted cockpit images from over Spanish mountains.