PM on Grenfell: I do not know why official help took so long to come

The Guardian
13/06/2018
Video: PMQs: May and Corbyn clash over Brexit and Grenfell (Provided by ITN News)
The prime minister has admitted she still does not know why it took so long for the authorities to help the victims of the Grenfell Tower fire.

Survivors have repeatedly complained about the lack of a co-ordinated official response in the hours and days after, saying it left them feeling abandoned while food and clothing for victims was delivered by volunteers on an ad hoc basis.
© Getty Images May speaks to firefighters as she visits Grenfell Tower. In an interview with Grenfell Speaks, a social media news channel, on the eve of the first anniversary of the fire, Theresa May said: "The response wasn't good enough, that's absolutely clear, from the beginning. We have been trying to ensure that as a government the response improved as I think it did over time. I don't know why it took so long."
Related Video: Grenfell: Living In The Shadow (Provided by HuffPost UK)
There was widespread anger that May herself did not meet any victims until two days after the fire.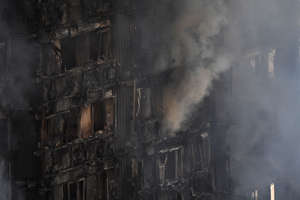 © Getty LONDON, ENGLAND - JUNE 14: Smoke continues to rise from the burning 24 storey residential Grenfell Tower block in Latimer Road, West London on June 14, 2017 in London, England. The Mayor of London, Sadiq Khan, has declared the fire a major incident as more than 200 firefighters are still tackling the blaze while at least 50 people are receiving hospital treatment. (Photo by Carl Court/Getty Images) She said: "I am sorry for not having met them then. I regret that because I think people perhaps felt they wanted those of us in power to know that we had understood and recognised what had happened, and perhaps felt that not meeting them immediately meant that I didn't care, and that was never the case."

May also took aim at the Conservative-controlled Royal Borough of Kensington and Chelsea: "When we looked at the response of the council in the immediate aftermath of the tragedy, this wasn't the first time the council hadn't responded to their needs."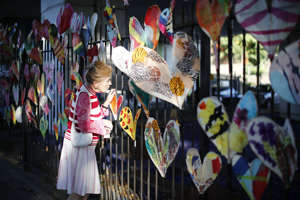 © Getty A member of the public views the paper hearts adorning a fence in Kensington, near the burnt-out remains of Grenfell Tower in London on August 25, 2017 ahead of the Notting Hill Carnival. The art work is being made by volunteers from the community devestated by the Grenfell tower fire disaster as part of a project called Green for Grenfell in which paper hearts, banners, posters and bunting relating to the Grenfell tower tragedy are being made out of recycled materials to adorn the streets in time for the Notting Hill Carnival this coming weekend. / AFP PHOTO / Tolga AKMEN (Photo credit should read TOLGA AKMEN/AFP/Getty Images) She said the council had shown a lack of sensitivity in its dealings with survivors and the bereaved over rehousing.

The council has told the public inquiry that over 340 of its staff, including from neighbouring boroughs, were mobilised in response to the disaster on 14 June.