Prince George and Princess Charlotte touch down in Poland with William and Kate for royal visit

Mirror
17/07/2017
© Provided by Trinity Mirror Plc Credits: WireImage Princess Charlotte gave a royal wave today as she arrived in Poland for her second royal tour.

The two-year-old royal and her big brother stole the show as they touched down at Warsaw's Chopin Airport with parents William and Kate just before 1.45pm.
Looking cute in a red and white patterned dress, Charlotte was carried by her mum Kate as the family were greeted by signatories on the tarmac.
Related: Royal Family: UK plc's secret Brexit weapon (Provided by: sky News)
She seemed to be taking it all in her stride, but brother George, who was wearing a red and blue checked shirt and blue shorts, seemed a little more uncertain, looking unsure as he stood at the top of the charter plane's steps.
He held dad William's hand and kicked his dad's heels as they chatted to the welcome party.
Mum Kate looked chic in a white McQueen outfit for the arrival, where the royals were met by the Secretary of State of Cabinet of the President Krzysztof Szczerski, the British Ambassador to Poland Jonathan Knot and his wife Angela, and the Polish Ambassador to Britain.
The royal children are expected to steal the show as they join their parents on a five-day visit, which also takes in Germany and has been described as a "Brexit charm offensive".
It is their second tour abroad as a family of four following their visit to Canada last September where George, who will soon be four, and two-year-old Charlotte, appeared at a garden party in Victoria.
However, they will largely be kept out of sight on this tour and are only expected to be seen four times - on arrival and departure to both countries.
William and Kate are very protective of their children and only allow them to be photographed on select occasions and in tightly controlled environments.
The last time they were seen in public was at the Queen's official birthday - Trooping the Colour - one month ago when they appeared on the Buckingham Palace balcony with the rest of the royal family.
They will stay with their Spanish nanny Maria Borrallo in Belweder Palace in Warsaw and the British ambassador to Germany's residence in Berlin as their parents carry out 24 engagements over five days.
© Provided by Trinity Mirror Plc Credits: Daily Mirror The programme includes a private meeting with German Chancellor Angela Merkel, a rowing race on the Neckar River and a poignant trip to meet survivors of the Stutthof concentration camp where as many as 65,000 people died before liberation in May 1945.
Today they will be greeted by President Duda and the First Lady at the Presidential Palace, who will officially welcome them to Poland.
Then they will travel to the Warsaw Rising Museum, which is dedicated to the uprising of 1944 which saw the Polish resistance Home Army attempt to liberate Warsaw from German occupation, where they will light a candle in memory of those involved in the Rising.
© Provided by Trinity Mirror Plc Credits: PA Later they will speak to young Polish entrepreneurs taking part in programme 'Warsaw-London bridge' that aims to help small Polish businesses access London's unique opportunities.
And tonight they will attend a Queen's Birthday Party at the Orangery in Łazienki Park, hosted by the British Ambassador, where William will make a speech.
A spokesman said: "We expect the children to be seen on at least a couple of occasions over the course of the week.
"They look forward to a busy and impactful tour and are grateful that they will have the opportunity to meet the Polish and German people - such important friends of the United Kingdom - as a family."
It takes place following the start of Brexit negotiations last month between British and EU politicians and has been described as a "Brexit charm offensive".
Their spokesman refused to be drawn on the significance of the trip taking place against the backdrop of Britain negotiating its exit from the EU, saying: "I'm not going to comment directly on the political context.
"Obviously the programme was put together with the government.
"For the Duke and the Duchess at this early stage in their official lives this is just a chance to build long-lasting relationships with people in both countries."
It will be Prince George's third trip abroad as he also went to Australia and New Zealand with his parents when he was eight months old.
A spokesman acknowledged it would become more "complicated" to take the prince abroad in term time once he starts St Thomas's school in Battersea in September.
The royals will travel with an entourage of 14 and will fly in a charter plane.
William and Kate will also tour the Elbphilarmonic Concert hall in Hamburg, visit the Gdansk Shakespeare Theatre and stop at the Brandenburg Gate in Berlin.
William will give two speeches on the trip.
A spokesman said: "The Duke and Duchess will pay special attention getting to know the young people of Poland and Germany; from entrepreneurs, to mental health campaigners, and bright young talents in music and the arts."
Related: Prince George's most adorable pictures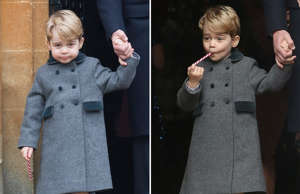 Prince George's most adorable pictures