Puffin numbers are 'halved by the Beast from the East': England's biggest colony is devastated by prolonged and severe winter weather

Daily Mail
24/05/2018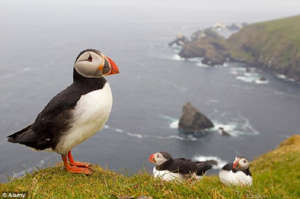 © Provided by Associated Newspapers Limited Adult puffins on breeding cliffs. A new count has found the puffin population on some islands has halved England's biggest puffin colony has been devastated by prolonged and severe wintry weather brought by the 'Beast from the East'.
Numbers of the endangered birds in Northumberland's Farne Islands appear to have fallen by nearly half on one island since they were last counted five years ago.
The decrease in puffins counted on the islands, a national nature reserve, was 12 per cent, according to preliminary findings from a population census.
So far, puffins on four of the eight Farne islands have been surveyed.
On one island, Brownsman, a 42 per cent decrease has been recorded since the last count in 2013, down from 10,047 breeding pairs to 5,797. The survey is being organised by the National Trust, which has looked after the islands for the last 93 years.
It described the initial results as 'alarming' and said if the trend is replicated in the coming years, puffins could have 'completely died out' on the Farne Islands in 50 to 100 years.
The last count five years ago recorded almost 40,000 breeding pairs of the birds.
The Beast from the East brought freezing temperatures and blizzards off the North East coast at the end of February.
Gwen Potter, a countryside manager for the National Trust in Northumberland, said: 'We've had a very harsh winter and increased frequency of stormy seas means it's harder for puffins to forage.' Puffins, who spend winter out at sea, have been four weeks later than usual returning to the islands this year, which the trust believes is due to the weather.
Slideshow: Places around the world already affected by climate change (Photos)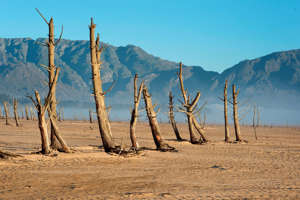 Miss Potter said the severe weather is due to climate change. This affects the puffin's main food source, sand eels, which move further north to find colder seas. Rangers, who live on the islands from March to December, say they have noticed some puffins are 'skinny', which could affect egg production and numbers of pufflings. They have also found dead puffins and seals wrapped in plastic. Tom Hendry, a National Trust ranger, said it will have a 'much clearer picture' of the puffin population when the count is complete in June.
The National Trust wants to increase the frequency of puffin counts to annually from once every five years 'to help discover the true picture and track numbers against likely causes of population change'.