Russian spy attack inquiry widens after medics treat 21 people

The Guardian
09/03/2018
The investigation into the attempted murder of Sergei Skripal has widened, as police sealed off the graves of his wife, Liudmila, and son, Alexander, and confirmed that a total of 21 people had been treated as a result of the incident.
The police officer who was exposed to the nerve agent used on the Skripals, named on Thursday as DS Nick Bailey, remained in a serious but stable condition.
Bailey was described by Wiltshire's temporary chief constable, Kier Pritchard, as "a massively dedicated officer".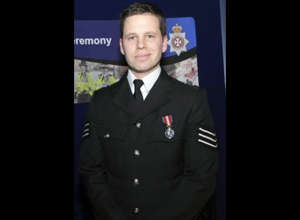 Pritchard said Bailey was "very anxious, very concerned" but sitting up in bed and talking. The prime minister, Theresa May, said: "We are all thinking of him, his family, friends and colleagues – and the two other victims – at what is an incredibly difficult time.
"The events of Sunday are a stark reminder, if ever one was needed, of the dangerous situations our emergency services face and the dedication and courage they display every day in order to keep us safe."
Related: Salisbury cop is 'well and sat up' (Provided by Sky)
Earlier, the home secretary, Amber Rudd, described the use of a nerve agent in a busy city centre as "attempted murder in the most cruel and public way" as pressure on the government and police for answers continued to grow.
Police have sealed off the grave of Liudmila Skripal and her son in Salisbury.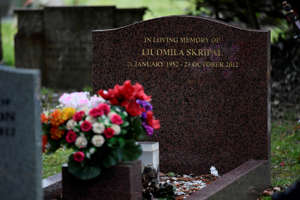 © Reuters The grave of Liudmila Skripal, wife of Sergei Skripal, is seen in London Road Cemetery in Salisbury, Britain, March 7, 2018. Forensics officers began a major search for evidence at Skripal's semi-detached house. They also cordoned off the graves in Salisbury cemetery where Liudmila and Alexander Skripal were interred in adjacent plots, and sealed off a garage and recovery service elsewhere in the city.
Rudd condemned the poisoning of Skripal, 66, and his daughter Yulia, 33, as a "brazen and reckless act". They remained "unconscious and in a critical but stable condition" in hospital, Rudd told MPs. She refused to give details of the agent used in what Scotland Yard has said was an attack specifically targeting the Russians.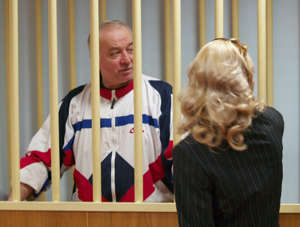 © getty Pictured in this file image dated August 9, 2006, is retired colonel Sergei Skripal during a hearing at the Moscow District Court She said experts at the government's laboratory at Porton Down had positively identified the substance. "It is very rare," she said.
The use of a nerve toxin, usually only held in state military stockpiles, is being seen as a key indicator of possible Kremlin involvement.
On Thursday, the Russian embassy in London sent a sarcastic tweet, saying of Skripal: "He was actually a British spy, working for MI6."
Moscow has repeatedly denied it has anything to do with the attack, the same line used when the FSB officer Alexander Litvinenko was poisoned in 2006 with a radioactive cup of tea. A public inquiry a decade later ruled the Kremlin had ordered the hit.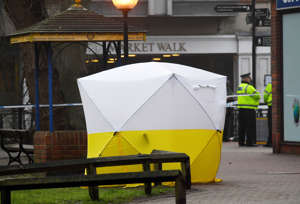 © REUTERS/Toby Melville Police officers stand at crime scene tape, as a tent covers a park bench on which former Russian inteligence officer Sergei Skripal, and a woman were found unconscious after they had been exposed to an unknown substance, in Salisbury, Britain, March 6, 2018. The Salisbury attack left Skripal and his daughter in a comatose condition last Sunday afternoon, on a bench in the Maltings shopping centre.
Detectives will be seeking to establish how the toxin was delivered – and, crucially, where.
© REUTERS/Peter Nicholls A police officer guards Zizzi's restaurant where Sergei Skripal and his daughter Yulia are known to have visited shortly before they were found in the centre of Salisbury One source suggested that Bailey was exposed to the nerve agent from inside Skripal's house and not in the city centre, as was previously thought.
It is understood that the cordon at the cemetery is in place primarily to keep media away from the graves of Liudmila Skripal, who died of cancer in 2012 aged 59, and Alexander Skripal, who died in March last year in St Petersburg, aged 43.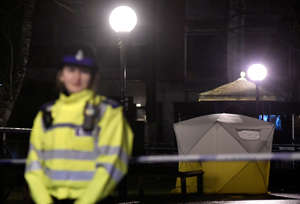 © REUTERS/Toby Melville Police officers stand guard beside a cordoned-off area, after former Russian military intelligence officer Sergei Skripal, who was convicted in 2006 of spying for Britain, became critically ill after exposure to an unidentified substance, in Salisbury, southern England, March 5, 2018. There was no sign of activity taking place on the site, but the family's run of ominous bad luck is likely to prompt police to examine whether Liudmila and Alexander may have been victims of foul play.
Police sealed off a new location on Churchfields industrial estate about five minutes by car from Skripal's home.
Officers in protective suits could be seen in the yard of Ashley Wood vehicle recovery services, and paramedics stood by. One car they looked at was a BMW that was partially hidden under a tarpaulin. It is understood that Skripal drove a BMW.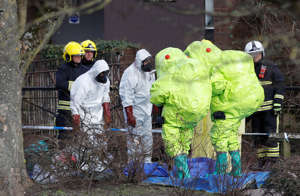 © Reuters Officials in protective suits check their equipment before repositioning the forensic tent, covering the bench where Sergei Skripal and his daughter Yulia were found, in the centre of Salisbury, Britain, March 8, 2018. REUTERS/Peter Nicholls Officers from the counter-terrorism command removed boxes from the site.
Friends of Yulia Skripal's in Moscow described her as an intelligent young woman, fluent in English and Spanish, as well as Russian. They said her comfortable life was destroyed in 2004 when her father – a career officer in GRU military intelligence – was accused of spying for MI6.
"We were all totally shocked when her father was jailed," her school friend Irina Petrova told the Guardian.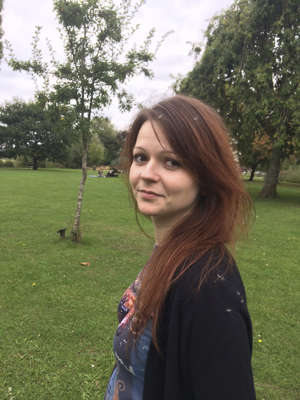 © AP Image of daughter of former Russian Spy Sergei Skripal, Yulia Skripal taken from Yulia Skipal's Facebook account on Tuesday March 6, 2018. "These were very tough years for Yulia. She was deeply affected by her father's sentence." On the ground in Salisbury, detectives have divided the investigation into three separate sites: the Skripals' home, the Mill pub, where they had been drinking, and the Zizzi restaurant where they had eaten before collapsing at around 4.15pm.
New photographs taken at 5.10pm showed the aftermath of the police operation, minutes after Skripal and his daughter were taken to hospital.
Officers in ordinary uniforms were working at the scene and members of the public were strolling nearby. None of the police wore protective clothing. Unlike in the case of Litvinenko, who was poisoned with slow-acting polonium, detectives got to the scene in Salisbury quickly.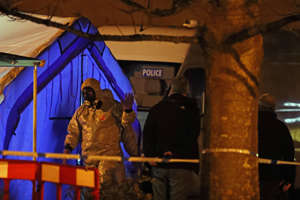 © PA Investigators next to a police tent outside the Mill pub at the Maltings in Salisbury near to where former Russian double agent Sergei Skripal was found critically ill by exposure to an unknown substance. Hundreds of officers are examining CCTV footage from the city centre and building a detailed timeline of events.
Speaking to ITV's Good Morning Britain, Rudd said: "Whatever attribution takes place in the future, we have to make sure we have all the evidence. 
The key thing is to have a cool head and allow [those investigating the incident] to continue that job, which they are doing with speed and with detail and with the support of professionalism we can expect."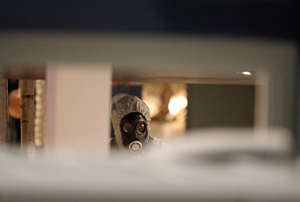 © PA Investigators inside the Zizzi restaurant in Salisbury near to where former Russian double agent Sergei Skripal was found critically ill by exposure to an unknown substance. Asked if she believed the poisoning was a Russian assassination attempt, Rudd said: "I'm determined to wait before any attribution [is made] until we have the facts. I'm completely confident that the police will be able to get that."
The defence secretary, Gavin Williamson, told the programme that Russia was "becoming an ever greater threat".
He declined to say, however, whether he held Russia responsible for the attack, saying only: "What's happened is absolutely disgusting and it is so important we give the police the space and opportunity to do a proper and thorough investigation."
Quick guide: How hard is it to make a nerve agent?
Nerve agents are not hard to make in principle, but in practice it takes specialised facilities and training to mix the substances safely. 

The raw materials themselves are inexpensive and generally not hard to obtain, but the lethality of the agents means they tend to be manufactured in dedicated labs. 
The main five nerve agents are tabun, which is the easiest to make, sarin, soman, GF and VX. 
The latter was used to kill Kim Jong-nam, the half-brother of the North Korean leader, Kim Jong-un, at Kuala Lumpur airport last year. VX is particularly stable and can remain on clothing, furniture and the ground for a long time without proper decontamination. 
All pure nerve agents are colourless organophosphorus liquids which, after they were discovered to be highly poisonous in the 1930s, became the dominant chemical weapons of the second world war. Once made, the substances are easy to disperse, highly toxic, and have rapid effects. 
Most are absorbed swiftly through the skin or inhaled, but they can also be added to food and drink. 
The agents take their toll on the body by disrupting electrical signals throughout the nervous system and the effects are fast and dramatic. Victims find it increasingly hard to breathe. Their lungs produce more mucus which can make them cough and foam at the mouth. They sweat, their pupils constrict, and their eyes run. 
The effects on the digestive system trigger vomiting. Meanwhile the muscles convulse. Many of those affected will wet themselves and lose control of their bowels. At high doses, failure of the nerves and muscles of the respiratory system can kill before other symptoms have time to develop. There are antidotes for nerve agents, such as oxime and atropine, which are particularly effective against VX and sarin, but they should be given soon after exposure to be effective.