Sajid Javid was looking to radically reshape Tory economic policy – will Rishi Sunak be even more of a revolutionary?
The Independent
13/02/2020
His political enemies had taken to calling Sajid Javid "Chino": "Chancellor in name only".
Now even the "name only" bit has gone and it seems to be 10 Downing Street, not Number 11, which is wearing the trousers when it comes to the UK economy.
Javid's resignation has made the son of a Bristol bus driver the shortest-serving holder of this great office of state since the 1970s. He leaves 11 Downing Street after just seven months. The modern record holder for the shortest term, the Conservative and former Spectator editor, Iain Macleod (one month) died in office in 1970.
The full details of the titanic political bust-up that prompted Javid's decision to walk away will no doubt be fully revealed in the coming days. Raw power struggles between chancellors and prime ministers are certainly nothing novel in British politics.
Yet what of the economic implications?
Javid had been a political force in Boris Johnson's government. He pushed back against those within the Johnson regime who wanted to make large spending pledges and tax cuts in the recent election to compete with Labour's big offer. And Javid prevailed after securing the backing of the all-powerful election chief Isaac Levido.
In Pictures: UK politicians - then and now [Microsoft GES]
One possible implication of his departure is that his successor – the former chief secretary to the Treasury, Rishi Sunak – could decide to spend more and tax less in the coming years, which would boost short-term GDP growth. The day-to-day budget balance target for three years' time was already looking a stretch given possible downgrades to growth and tax revenue forecasts in March's Budget.
Ripping up the fiscal rules created by Javid just three months would doubtless be embarrassing for the government – but not impossible. This is a government and a prime minister that have demonstrated a remarkably high threshold for the pain of embarrassment.
Many officials in the Treasury – who have long seen it as their responsibility to be a brake on ministers' lavish vote-attracting spending dreams – will be wondering whether this shock departure also signals a further dilution of their influence in the Whitehall ecosystem.
What of the bigger picture?
Javid had also been the front person of a remarkable shift in Conservative economic policymaking, giving speeches about the importance of levelling up the regions and cranking up infrastructure spending to levels not seen in many decades. It's had commentators talking of a decisive break with small state Thatcherite economics from the Tories. Whether that was true or not, recent rumours of plans for a wealth tax on high-value houses in the forthcoming Budget have certainly cemented that impression.
And Brexit?
It was Javid who – in an interview to the Financial Times last month – definitively told businesses that they should expect regulatory barriers and border checks with the EU after the transition period was over, and that Theresa May's promise of "frictionless" commerce with our biggest trading partner was now deceased.
"There will be an impact on business one way or the other, some will benefit, some won't," he remarked.
In Pictures: Every UK Prime Minister in the last 100 years [Microsoft GES]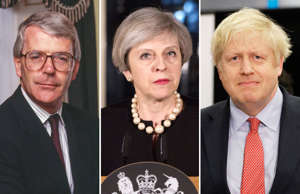 Lobby groups were astonished by the apparent insouciance of that comment by a chancellor from a party that has traditionally styled itself as the best friend of business. This former Deutsche Bank trader would have also played a key role in attempts to secure a decent post-Brexit trading arrangement for the City of London.
It's never been entirely clear whether Javid truly believed in this whole agenda – the market interventionism, the lack of concern for the worries of businesses, the "infrastructure revolution", hard Brexit at all costs – or whether he was bowing to the new reality from Downing Street.
But it's clear he was in the midst of a profound reshaping of the Conservative economic approach while also navigating a potentially major shift in the UK's place in the world economy.
The biggest question today is whether Javid's successor will put his foot down and accelerate the revolution.