Stewart survives as Raab eliminated from Tory leadership race

The Guardian
18/06/2019
Dominic Raab has been eliminated from the contest to be Britain's next prime minister after the second round of voting by Conservative MPs, but the outsider Rory Stewart will go forward.
As expected, Boris Johnson topped the poll, the 126 votes he garnered cementing his lead over rivals and underlining the sense that his progress to Downing Street is now all but unstoppable.
Related: Tory leadership: Johnson, Hunt, Gove, Stewart, Javid through, as Raab eliminated – live news
Raab, a former Brexit secretary, won just 30 votes, below the 33 vote threshold to stay in. He had alarmed many colleagues by refusing to rule out suspending parliament if MPs tried to block a no-deal Brexit.
Mark Francois, the strongly pro-Brexit MP who supports Johnson, said Raab's elimination was said. "Whoever wins, and I hope it's Boris, I hope they find a good place for Dom in their cabinet, because I think he deserves it."
The home secretary, Sajid Javid, just survived with 33 votes, but found himself overshadowed by the cabinet newcomer Stewart, who was backed by 37 MPs, almost double the 19 he picked up in the first round.
A spokesman for Javid's campaign said he would take part in the live TV debate on the BBC on Tuesday night and continue in the race. "It's 46 to 33, so as far as we're concerned it's all to play for," he said of the gap between Javid in fifth and Jeremy Hunt in second. "He's had a great four days, picked up some votes today, and we'll fight on."
Gillian Keegan, the Chichester MP and supporter of Stewart, said the momentum was with the international development secretary. "They're very close now. There's a clear winner, and between the others there's not many votes," she said.
"It's very rewarding. Rory's campaign is basically honest about where we are as a country. He's basically telling people the uncomfortable truth in some cases, but he's being honest. And who knew there was a market for honesty in politics? I'd always hoped that there was."
Stewart, who began the contest as the underdog, picked up more support after what was widely regarded as a strong performance in Sunday's TV debate on Channel 4.
Hunt, the foreign secretary, still looks the most likely challenger to Johnson as the contest reaches its final stages. The environment secretary, Michael Gove, received 41 votes.
Hunt has repeatedly highlighted his background as an entrepreneur, claiming it will stand him in good stead to negotiate a better Brexit deal.
His team had staunchly rejected rumours circulating in Westminster earlier on Tuesday that Johnson's outriders had been urging colleagues to lend their votes to Hunt because he was their preferred opponent.
Johnson has the former defence secretary Gavin Williamson and the former Tory party chair Grant Schapps working Westminster on his behalf.
He has won over hard Brexiters by promising to take Britain out of the EU by 31 October "with or without a deal", but has also played up his one-nation credentials to appeal to his party's liberal wing.
The former foreign secretary has gained increasing support as the contest has gathered pace in recent days; the former leader of the House of Commons Andrea Leadsom became the latest senior figure to endorse him on Tuesday.
The health secretary, Matt Hancock, who withdrew from the contest on Friday after receiving 20 votes, has also thrown his weight behind Johnson.
MPs will vote again on Wednesday, and if necessary on Thursday, until the field is narrowed down to just two names, which will then be offered to Conservative members in a postal ballot. The result will be announced in the week beginning 22 July.
In Pictures: This week in history [Microsoft GES]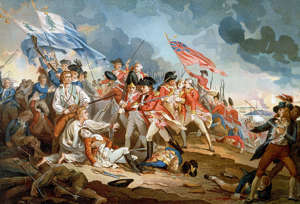 MSN are empowering Women In Sport this summer. Find out more about our campaign and the charity fighting to promote the transformational and lifelong rewards of exercise for women and girls in the UK here.