'There was blood all over the road': Teenager is stabbed to death in east London street bringing the capital's bloody death toll to 60 so far this year

Daily Mail
17/04/2018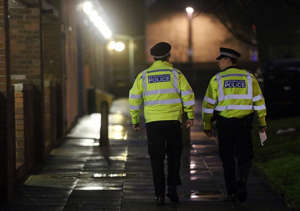 © PA Police officers distribute leaflets to members of the public appealing for witnesses to come forward to assist with inquiries into the murder of Tanesha Melbourne-Blake in Chalgrove Road, Tottenham. A teenager has been stabbed to death in an east London street bringing the capital's death toll this year up to 60.
The Metropolitan Police have confirmed that a stabbing happened in Forest Gate at around 10.50pm last night. The man, believed to be 18 years old, was pronounced dead at the scene.
No arrests have been made.
A Twitter user who says he is within the police cordon around the scene has claimed that an officer 'indiscreetly' told him there was blood 'all over the road'.
A police spokesperson said: 'Officers attended the location along with London Ambulance Service and paramedics from London's Air Ambulance.
'The victim - believed to be an 18-year-old man - was pronounced dead at the scene at 23:27hrs. Officers are in the process of informing next of kin.
'Formal identification and a post-mortem examination will be arranged in due course.
'A police investigation has commenced, and cordons are in place at the scene. There has been no arrest at this early stage.
'Any witnesses, or anyone with information that may assist the investigation, are urged to call officers via 101 quoting CAD 8332/apr16.' 
The killing earlier tonight is the 60th in London since the start of the year.
Yesterday a young father and a woman in her 30s died within half an hour of each other.
One Twitter user who said he was within the cordon claimed an officer told him there was 'blood all over the road'

Raul Nicolaie, 26, has been named locally as the man stabbed to death in Colindale, north London at around 6pm yesterday. 

Paramedics and air ambulance crews treated Mr Nicolaie before he was taken to hospital in central London but died later in the evening.
Friends told the Evening Standard the Romanian, who came to Britain around five years ago, leaves behind a six-month-old son, who he adored. A woman in her 20s, who knew the victim, has been arrested on suspicion of murder.
In the second incident, a woman in her 30s was stabbed to death in Brixton, south London, shortly after 6.30pm. The attack took place and the woman died inside the suspected killer's family home, according to shocked neighbours. The attack occurred on Sudbourne Grove, where houses sell up to £1,325,000.
The 60 lives taken so far on the streets of London in 2018   
JANUARY - 12 deaths, including one late on December 31  
31 December, Kyall Parnell, 17: Stabbed to death in Lambeth
1 January, Steve Frank Narvaez-Arias, 20: Stabbed in the chest on New Year's Day at a flat party in a council estate off Old Street in Islington, north London. After moving to the UK from Ecuador, the 20-year-old was reading physics and aerospace at Hertfordshire University and hoped to become a pilot
3 January, Elizabeta Lacatusu, 44: Found bleeding to death on Norfolk Road, in Ilford, after she had her throat slashed. She worked at a restaurant in the east London town and was returning home when she was stabbed to death
6 January, Vijay Patel, 49: Mr Patel was beaten to death in Barnet
8 January, Daniel Frederick, 34: Daniel was killed metres from his home in Hackney after attending a hospital appointment for his pregnant partner
9 January, Dami Odeyingbo, 18: Stabbed in Bromley
11 January, Harry Uzoka, 25: Harry, who was on the books of Premier Model Management and had modelled for brands including Mercedes and Zara - was stabbed in Shepherd's Bush. Neighbours reported a shout of 'hand it over' in the melee which involved several men
24 January, Seyed Azim Khan, age unknown: Died from a head injury in Redbridge
28 January, Yaya Mbye, 26: Stabbed in Hackney
© Provided by Associated Newspapers Limited Yaya Mbye

29 January, Juan Olmos Saca, 39: Died six days after being found stabbed at an address in Peckham
31 January, Lily-Mai Saint George, one: One-year-old Lily-Mai was found dead in Haringey. The Met Police say her cause of death remains unknown
31 January, Khader Saleh, 25: The 25-year-old was stabbed in the Hammersmith and Fulham area
FEBRUARY - 14 deaths
3 February, Kwabena Nelson, 22: Ambushed in Tottenham in the early hours where he was fatally stabbed
3 February, Hasan Ozkan, 19: Stabbed to death in Abbey Road, Barking
5 February, Juan Olmos Saca: Died in hospital after being stabbed in Peckham
8 February, Hannah Leonard, 55: Fatally stabbed in Brays Tower, Primrose Hill
11 February, Sabri Chibani, 19: Stabbed in Streatham Common
12 February, Bulent Kabala, 41: The taxi driver was shot dead in a 'targeted hit' on a roundabout in Barnet
13 February, Saeeda Hussain, 54: Found with critical injuries at an address in Ilford and pronounced dead at the scene

14 February, Promise Nkenda, 17: Fatally stabbed in Newham, east London
15 February, Mark Smith, 48: Mr Smith was found injured in Chingford, and died shortly afterwards
17 February, Lewis Blackman, 19: Lewis, who grew up on the Peckwater estate in Kentish Town, was killed in Kensington. Witnesses told how a gang of about eight youths, some armed with sticks, shouted 'let's chase him down', before he was stabbed
17 February, Josef Boci, 30: Jozef was beaten up in the street in Greenwich and died in hospital
19 February, Rotimi Oshibanjo, 26: Rotimi was fatally stabbed inside a property in the Halliday Square housing estate
20 February, Sadiq Mohamed, 20: The aspiring accountant was found with serious stab wounds in Malden Road, in Belsize Park

20 February, Abdikarim Hassan, 17: Abdikarim died in the street after being attacked in Camden
20 February, name unknown, 24: Shot in Westminster
25 February, Michael Boyle, 44: Stabbed in Southwark. Mr Boyle, from Galashiels, Scotland died of multiple organ failure after being stabbed at a property in Southwark. He was found on February 25 but died on March 10
MARCH - 23 deaths
1 March, Christopher Beaumont, 42: Stabbed in Hammersmith and Fulham
5 March, Kelva Smith, 20: Found stabbed in South Norwood, Croydon and pronounced dead at the scene
5 March, Laura Cecilia Navarrete De Figueira, 47: Police launched a murder investigation after Laura Cecilia Navarrete De Figueira was found with stab wounds at her home in Twickenham. An hour earlier the body of her husband Figueira de Faria and the bodies of Claudio, 10, and Joaquin, seven, were discovered on the beach at Birling Gap, in Eastbourne, East Sussex
8 March, Kelvin Odunuyi, 19: Shot in Haringey
12 March, Julian Joseph, 36: Murdered in Lewisham, cause of death as yet unknown

13 March, Nikolay Glushkov, 68: Russian businessman was found dead in his home in New Malden. He died from compression to the neck
14 March, Lyndon Davis, 18: The youngest to have been killed in March, was found suffering from a single stab wound in Chadwell Heath, east London
14 March, Joseph Williams-Torres, 20: Killed as he sat in a stationary car in Essex Close, Walthamstow
16 March, Naomi Hersi, 36: Stabbed in Hounslow. Hersi, who lived as a trans woman called Naomi, was pronounced dead at the scene after being found with knife injuries in Hounslow
17 March, Russell Jones, 23: Ambushed outside shops near Ponders End station, in Enfield and stabbed and shot to death
18 March, Tyrone Silcott, 42: The father-of-two died from knife wounds after a St Patrick's Day party. It is alleged the car mechanic got into a row over two girls at a party in Homerton and was attacked
19 March, Balbir Johal, 48: Died after being stabbed in Southall
19 March, Jermaine Johnson, 41: Found with stab injuries and pronounced dead at the scene in Walthamstow
20 March, Beniamin Pieknyi, 20: Believed to have jumped in to the fight in a bid to save his friend during the altercation at the Stratford Centre in east London. The 20-year-old, who only arrived in Britain two months ago from Romania, died in his best friend's arms after being chased and stabbed by a gang in the busy shopping centre
25 March, Abraham Badru, 26: Gunned down in Hackney. The university graduate, who was murdered in Dalston, east London, was awarded the National Police Bravery Award in July 2009
25 March, awaiting formal ID, 59: Person found dead in Barking & Dagenham
26 March, David Potter, 50: Found stabbed to death in a property on Tooting High Street
29 March, Reece Tshoma, 23: Reece, from Barking in east London, was stabbed in the neck in Greenwich before being rushed to hospital by his friend where he died
30 March, Leyla Mtumwa, 36: Leyla was found dead with stab wounds to the neck and chest at an address in Haringey 
APRIL - Nine deaths
1 April, Devoy Stapleton: Stabbed at as he made his way home from a night out in Wandsworth. Police found him in a pool of his own blood after being called to the middle-class suburb of Earlsfield, south west London
2 April, Tanesha Melbourne, 17: Tanesha was gunned down near her home in Tottenham, north London in front of horrified friends and family. It is thought she was caught in the crossfire of a ruthless gang war
2 April, Amaan Shakoor, 16: The teenager was shot in the face in Walthamstow, north London, and police have now confirmed he died from his injuries in hospital
4 April, Henry Vincent, 37: Burglary who died from stab wound after raiding pensioner's house
4 April, Babatunde Akintayo Awofeso dies after row on Upper Clapton Road, east London.
4 April, Israel Ogunsola, 18, dies in Hackney after being stabbed. The victim approached police who performed first aid but he died at the scene after 25 minutes.
12 April, John Maclean, 35, stabbed at a flat in the Isle of Dogs. A 25-year-old has been charged with his murder.
15 April, Raul Nicolaie, 26: Found at with stab injuries in Colindale, north London. A 34- year-old woman was arrested at the scene on suspicion of murder
15 April, an unnamed woman in her 30s was stabbed to death in Sudbourne Road, Brixton, south London. A man in his 20s has been arrested on suspicion of murder.
16 April - A teenager is stabbed to death in the street in Forest Gate.