Theresa May defends 'moderate, open-hearted' Tories as she tells three defectors their criticism of the party is wrong in firm letter

Evening Standard
21/02/2019
Theresa May tonight defended her "moderate, open-hearted" party in a letter to the three MPs who defected to the new Independent Group.
The Prime Minister said she was "saddened" by their decision to leave but firmly rejected their criticisms of the Conservative Party.
In her letter to Anna Soubry, Sarah Wollaston and Heidi Allen, Mrs May dismissed their claims the party had been taken over by the right and was now in the grip of "hard line" Brexiteers.
The trio had compared the influence of the pro-Brexit European Research Group to how the "hard left has been allowed to consume and terminally undermine the Labour Party".
"I know you will not have come to your decision lightly, but I must say that I do not accept the picture you paint of our party," Mrs May wrote.
"Indeed, in each of the areas you highlight, our record in government shows that we are the moderate, open-hearted Conservative Party in the One Nation tradition you speak of."
The trio left the party on Wednesday in a dramatic move less than an hour before Mrs May faced PMQs.
In a letter, they said the Tory Party had "increasingly abandoned" principles such as "economic competence, opportunity and prosperity for all and tackling inequalities."
Mrs May rejected their comparisons with the way the Labour Party had been taken over by the grassroots Momentum group.
In Pictures: Theresa May: Political career in pictures (Microsoft GES)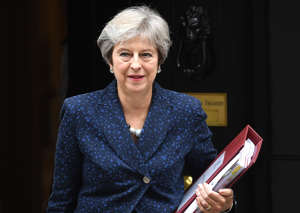 "I was sorry to read, and do not accept, the parallel you draw with the way Jeremy Corbyn and the hard left have warped a once-proud Labour Party and allowed the poison of anti-Semitism to go unchecked," she wrote.
"I am determined that under my leadership the Conservative Party will always offer the decent, moderate and patriotic politics that the people of this country deserve.
"I hope we can continue to work together on issues where we agree."
The letter emerged as one of Labour's former MPs said Mrs May could be propped up by the Independent Group (TIG) if she agrees to a second Brexit referendum.
Gavin Shuker said today that if Mrs May agreed to a public vote on the Withdrawal Agreement it would be in the national interest to make sure there was a "period of stability" to allow that to happen.
Meanwhile the PM appeared to step up efforts to prevent further defections from the Tory ranks by meeting two prominent Conservative supporters of a second referendum.
Her invitation to Phillip Lee and Justine Greening followed warnings the party was "destroying itself".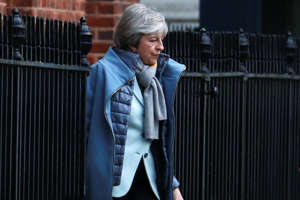 Dr Wollaston, one of the three Conservatives who quit to join TIG this week, has suggested a third of the Cabinet could walk out if Mrs May steers the country towards a no-deal Brexit.
In a sign of the unrest in the Tory ranks, former Cabinet minister Ms Greening and ex-attorney general Dominic Grieve have both indicated they would leave the party if the Government backed a no-deal Brexit.
"It is something that I have considered, but I have reached a different conclusion for the moment," Ms Greening told Today.
Downing Street was forced to defend Mrs May's approach to tackling immigration after Anna Soubry, another of the Conservative defectors, accused her of having a personal "problem" with immigration.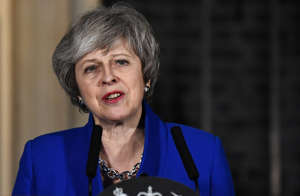 Ms Soubry told BBC2's Newsnight: "The only reason why she will not agree to the single market is because of free movement of people... I look at the evidence, and I think she's got a problem with immigration."
Mrs May's official spokesman said: "The Prime Minister is focused on delivering an immigration system post-Brexit which allows us to take back control of our borders and ensures this country continues to allow in the brightest and best.
"Immigrants make a huge contribution to our public services and economy and that's going to continue after Brexit."
Ms Soubry also revealed that ex-prime minister David Cameron had pleaded with her, Dr Wollaston and Ms Allen to stay on the Conservative benches.
She told The Times Red Box podcast that Mr Cameron sent them a text saying: "Is it too late to persuade you to stay?"
Mr Corbyn urged the TIG MPs to stand down and fight by-elections under their new banner, which he dismissed as "the failed business-as-usual politics of the past".
Responding to the accusations of defecting MPs like Luciana Berger that he had failed to tackle anti-Semitism in Labour ranks, Mr Corbyn said he was "utterly determined to root out anti-Semitism from our party and our country".
Video: How it happened: 'Three Amigos' say goodbye to the Tory party [Sky News]