Thousands join Extinction Rebellion protests across London

The Guardian
4 days ago
Watch: Police make arrests amid climate change protests (Independent)
Thousands of people have joined a "climate rebellion" in London, blocking traffic and disrupting "business as usual" to demand action over the escalating ecological crisis.
By 2pm five London landmarks – Waterloo Bridge, Marble Arch, Parliament Square, Oxford Circus and Piccadilly Circus – had been blocked by thousands of protesters bringing widespread disruption. The protests are planned to continue for at least a week.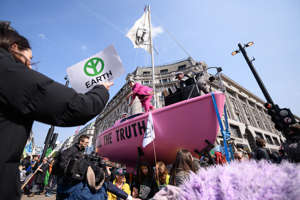 © Getty A boat is placed in the centre of the traffic junction as Environmental campaigners block Oxford Circus during a coordinated protest by the Extinction Rebellion group on April 15, 2019 in London, England. With demonstrations blocking a number of locations across the capital, the group aims to stop traffic for up to five days. The group is calling on the government to reduce carbon emissions to zero by 2025 and establish a citizens' assembly to devise an emergency plan of action to tackle climate change and biodiversity loss.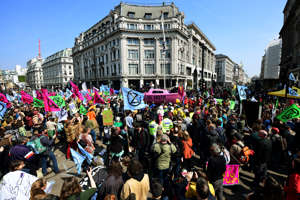 © Getty A boat is placed in the centre of the traffic junction as Environmental campaigners block Oxford Circus during a coordinated protest by the Extinction Rebellion group Waterloo Bridge was blocked to traffic and turned into an impromptu garden bridge on Monday, with people bringing trees, flowers and setting up a miniature skate park.
At Oxford Circus thousands of protesters danced at the normally busy junction and a life size model of boat was parked in the middle of the crossing with the slogan Tell the Truth emblazoned on the side.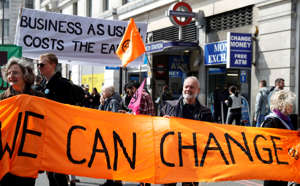 © AP At nearby Piccadilly Circus the youth section of Extinction Rebellion held a sit down protest.
Trey Taylor, 19, said he felt compelled to act when he realised the scale of the climate crisis.
"We are facing environmental breakdown and nothing remotely proportionate is being done about it... when you look at the facts this is happening now and the government response is utterly woeful."
Laura Sorensen, a retired teacher from Somerset, was one of thousands who had gathered on Waterloo Bridge.
Related: 'Only rebellion will prevent ecological apocalypse' (Guardian)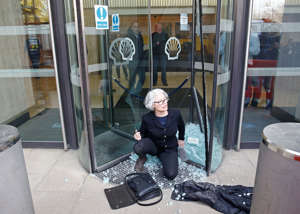 © Reuters A climate change activist is seen at the entrance of the Shell Centre.

"I am so worried about what's happening to the planet. We are on a knife-edge now and I felt strongly that I needed to get out and show myself, rather than just talk about it in the pub," she said.
Sorensen said she had not previously been active in the environment movement but had been given a love of nature by her parents.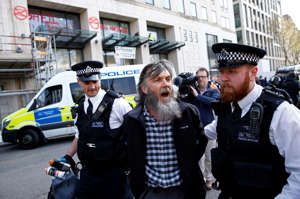 © Reuters Police officers detain a climate change activist, during an Extinction Rebellion protest at the Shell Centre in London.

Simon Bramwell, who was glued to a revolving door at @Shell, said: "Shell has known about the impact the fossil fuel industry is having on our planet for decades. They've done nothing but deceive, lie and undermine any efforts at transition to renewables." #extinctionrebellion pic.twitter.com/efAb6QO7C0

— Damien Gayle (@damiengayle) April 15, 2019
"I see this disaster unfolding all around me … it is terrifying and the government have done nothing despite all the warnings, so we have to act now."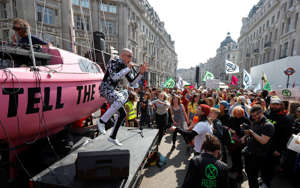 © Reuters A performer sings to climate change activists demonstrating at Oxford Circus during an Extinction Rebellion protest in London.
The demonstrations are part of a global campaign organised by the British climate group Extinction Rebellion, with protests planned in 80 cities across 33 countries in the coming days.
At Parliament Square about 2,000 people had gathered under a sea of flags, placards and banners for what is planned to be the political space of the protest.
An octagonal stage was erected on the green for speakers, compered by New Internationalist contributing editor Jamie Kelsey Fry. "This is not a political movement, this is a movement of humanity," he said. "We are all backgrounds, all ages, all races, bound together in one wish, one dream, which is that we will have a good, decent, loving future, for generations to come."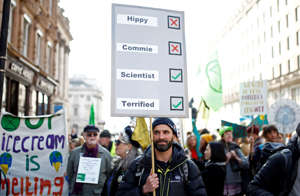 Towards the back of the crowd stood student Maria Jaramillo, 22, with her friend Liam Wilkinson, 20, who was waving a small extinction symbol flag. 
Jaramillo said she wanted the government to "inform the people of the true dangers of climate change", rather than merely paying lip service to the problem.
"Everything is so watered-down and [the actions] the government takes are so contradictory," she said.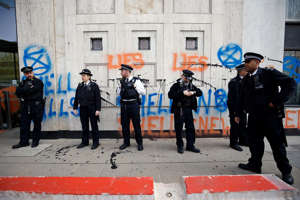 Protesters also shattered a glass revolving door at the headquarters of the fossil fuel company Shell and smeared its facade with graffiti and black paint.
Hundreds of people soon stopped to watch as the protest outside Shell continued.
© Reuters Police officers talk to a climate change activist, during an Extinction Rebellion protest at the Shell Centre in London Two activists climbed above the entrance, writing "Shell knew" and "Shell knows". Activists said at least one arrest had been made. Jessica Sirois, from Chicago, Illinois, was not impressed. "Why make a point by doing that? That's graffiti," she said. "if they were in a lot of other countries they would be in prison for that."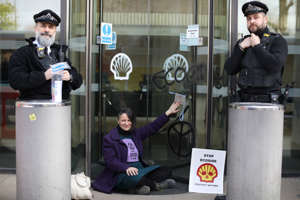 © Getty An Environmental campaigner holds up a sign saying 'my hands are glued to this surface' as she takes part in a protest outside a Shell Oil building At Marble Arch hundreds of people sat in the sun, listening to bands playing from an open-side truck.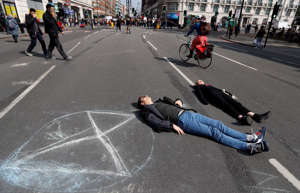 Police walked among protesters, many of whom had come with their children, while groups of activists at the periphery blocked the various roads feeding into what is usually one of London's busiest junctions.
© Getty Environmental protesters from the Extinction Rebellion group arrive with a tree. Alex Armitage, an NHS doctor, had been drafted in as a spokesperson for the Marble Arch rebellion. He said he hoped that the police could be brought on side. "Eventually if this is going to work, if we are going to have the massive change in the economy that we need to protect ourselves from climate change, we are going to need to the police to be unwilling or unable to restore order, and then the government has no option to negotiate," he said. "It all seems really grandiose – but so is the scale of the problem facing us."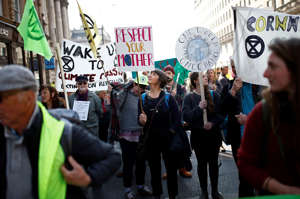 © Reuters Demonstrators protest on Waterloo Bridge. Roger Hallam, one of the leaders of the movement, said nothing like this had been seen on the streets of London for decades. "What's amazing about this is for 30 years you have just had that closing up of public space – "you can't do this, you can't do that, you've got to finish then."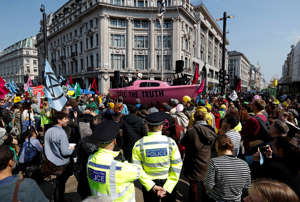 "Suddenly what Extinction Rebellion has done is actually say: 'we are doing this'. And the state is so weak through austerity that they can't stop us."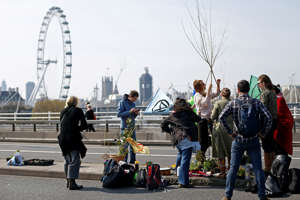 © Reuters Climate change protesters set up a miniature garden on Waterloo Bridge. The campaign cites the civil rights and suffragette movements as inspiration and is backed by senior scientists and academics, including the former archbishop of Canterbury Rowan Williams. 
Good to see Archbishop Rowan supporting the movement - @ExtinctionR #InternationalRebellion #ExtinctionRebellion pic.twitter.com/qyEREswbYF

— Faith for the Climate Network (@fftcnetwork) April 14, 2019
"We don't want to disrupt people, but our government's failure over the last 30 years leaves us no choice," an Extinction Rebellion spokesperson said. "Governments prioritise the short-term interests of the economic elites so, to get their attention, we have to disrupt the economy."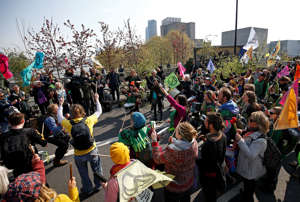 © Reuters Climate change activists demonstrate on Waterloo Bridge during Extinction Rebellion protests. Participants in the protests are being forewarned they might be arrested for taking part in non-violent civil disobedience. Organisers have circulated legal advice to anyone planning to attend. They have also requested they refrain from using drugs and alcohol and asked that they treat passersby and the environment with respect.
A Metropolitan police spokesperson declined to comment, other than to say an appropriate policing plan would be in place.
Gallery: Climate demonstrations around the world (Photos)