Tory who lavished praise on Crown Prince Salman at PMQs received £16,000 in donations from Saudi Arabia

Mirror
09/03/2018
A Tory MP who lavished fawning praise on Saudi Crown Prince Salman in the House of Commons failed to mention he had received more than £16,000 in donations from the Kingdom of Saudi Arabia.
Aldershot MP Leo Docherty has visited Saudi Arabia twice in the last six months, with the bill for flights food and hotels picked up by the country's royal family.
His first visit in September, just three months after he was elected, saw him meet with King Salman Abdulaziz bin Saud as well as senior government officials, "in order to support and understand the British-Saudi relationship."
Fascinating discussion today with HRH The Crown Prince of
#SaudiArabia
- geopolitics,human rights, the historic alliance between UK & KSA and the reforming ambition of
#Vision2030
pic.twitter.com/xS68MNebzW
— Leo Docherty MP (@LeoDochertyUK) March 8, 2018
He described Crown Prince Salman, who is visiting London, "a force for tremendous stability in a very turbulent region."
He went on to ask Theresa May to "offer reassurance to the Crown Prince that this country will stand with him in his efforts to bring modernity, development and reform to our very important middle-eastern ally."
The Prime Minister replied: "I agree with my honourable friend. We have had a long-standing and historic relationship with the Kingdom of Saudi Arabia, and that will continue. It has been important in our security and defence, and in the stability of the region.
"Moreover, under the Crown Prince and his Vision 2030, Saudi Arabia is reforming and changing and giving greater rights to women. We should encourage that and stand alongside and work with Saudi Arabia to help the Crown Prince deliver on his Vision 2030."
While MPs are required to verbally declare gifts and donations before giving formal speeches to the house, the rules do not require them to do so before asking questions at PMQs .
But many MPs choose to do so anyway to avoid accusations of conflict of interest.
Mr Docherty declined to comment.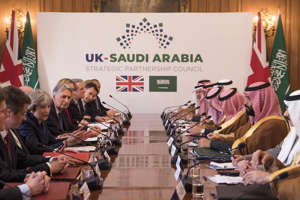 Liberal Democrat leader Vince Cable said: "Declarations of interest at PMQs must be introduced as an absolute minimum to ensure MPs do not have any conflicts of interests.
"The Saudi Arabia visit is a highly emotive issue so not offering a declaration of interest is totally outrageous."
The Tory MP, a member of the Defence Select Committee, was among a handful of people to meet personally with the Saudi Crown Prince today - even posting a grinning selfie with him on his Twitter account.
Mr Docherty also neglected to mention the two trips when asking two written Parliamentary questions to the Ministry of Defence in October.
He later came to the House of Commons and raised a point of order to correct the record.
In the first question, he asked defence minister Tobias Ellwood for details of how the government is supporting the sale of British made Typhoon aircraft to Saudi Arabia.
The second question, to then-Defence Secretary Sir Michael Fallon, whether he expected defence cooperation with Saudi Arabia to increase following the signing of a new military and security cooperation agreement. Sir Michael replied saying that it would.
The Kingdom of Saudi Arabia have been eager to promote a positive image of Crown Prince Salman's in the UK, taking out huge newspaper and billboard adverts yesterday (WED) featuring his image and the message: "He is bringing change to Saudi Arabia."