Touching moment Tube driver stops his train to salute mourners commemorating Grenfell victims

Evening Standard
14/06/2018
(Video provided by Sky News)
Touching footage shows the moment a Tube driver stopped his train mid journey to salute people commemorating the victims of the Grenfell Tower fire.
The video showed the driver stopping the train on a bridge before pulling into Latimer Road station.
He emerged from the front of the train with a green banner shouting words of support to the people gathered.
He also sounded the Tube's horn to mark the event being held in the centre of London. His salute was met by applause and cheers from the crowds of hundreds of people standing below.
The touching moment was caught on Sky News. 
Correspondent Dan Whitehead described the moment as "remarkable." Speaking to the camera he said: "Pretty remarkable scene actually one of the Underground trains stopping and cheers from the couple of hundred people here who have gathered.
"What a lovely tribute."
The event took place on Wednesday evening. Many people gathered to eat an iftar meal to show solidarity with the Grenfell survivors and victims.
The display is one of a series of commemorations and vigils taking place this week as the public inquiry is temporarily halted for commemorations.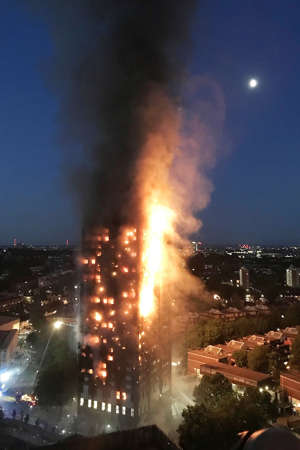 Thursday marks one year since the horrifying fire tore through the tower block taking the lives of 72 people. From 11am, there will be a service of remembrance at St Helen's church organised by campaign group Relative Justice Humanity for Grenfell.
Clarrie Mendy, who lost two family members in the fire and organised the anniversary event, said the names of the 72 victims would be read out, while 73 doves will be released outside the church.
She said: "It's a service of healing, community, inclusivity and solidarity, to know we are not alone. We'll be releasing 73 white doves. Why 73 instead of 72? One for the unknown. If there were more than 72, we will put one for the unknown."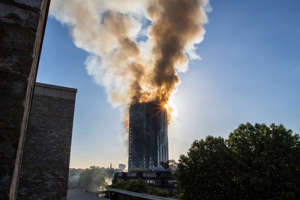 They will be giving out 400 white roses which people will able to carry on their way to the tower afterwards. In addition, a moment of silence will be observed at midday by survivors and bereaved close to the tower's base and nationally.
A community mosaic is to be unveiled, while wreaths will be laid and candles lit.
The tower is now completely covered by white sheeting, with banners featuring the green Grenfell heart and the words "Grenfell forever in our hearts" emblazoned across the four highest floors.
In the afternoon, the community is expected to congregate at the nearby "Wall of Truth" ahead of the silent march which will set off around 7pm.
Grenfell Tower was illuminated in green to mark the anniversary on Wednesday night. Another 12 blocks turned green at 12.54 am on Thursday the time off the first 999 call reporting the fire - until 5am.
In a show of solidarity, Downing Street is also to be illuminated. For the following four evenings the buildings will be illuminated from 8 pm until midnight.