UK's first new polar bear cub in 25 years is male, wildlife park says
Press Association
16/04/2018
The first polar bear to be born in the UK for 25 years is a boy, the Royal Zoological Society Scotland has said.
Staff at the charity's Highland Wildlife Park discovered the four-month-old cub is male during his first routine health check on Monday morning.
Video: UK's only polar bear cub plays in paddling pool (Reuters)
Una Richardson, head keeper responsible for carnivores, at Kincraig near Kingussie in the Highlands, said: "It was very exciting to find out we have a little boy. 

"Next we need to give him a name and our keepers are coming up with a suitable list which we will soon ask the public to choose from on social media.
Slideshow: The best of the animal world (GES Photos)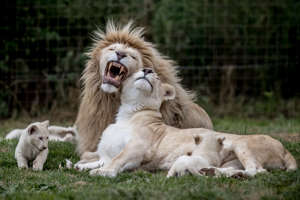 "This will help us engage with as wide an audience as possible to raise awareness of the threats polar bears are facing in the wild and the need to protect this magnificent species."
Born in December, the cub has been introduced to his large outdoor enclosure with mum Victoria and has already taken his first swim.
Slideshow - Top photos from the 2017 Comedy Wildlife Photography Awards (GES Photos)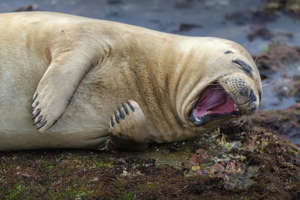 "He is becoming more confident every day and is doing well. We were able to give him a quick health check, ensuring he was back alongside Victoria very swiftly," Ms Richardson said.
"While there is a lot of interest from the public, we are reminding visitors that he is still very young and is spending a lot of time in his cubbing den."