UK weather forecast latest: London Marathon could be hottest ever after temperatures in Britain soar to 25C

Evening Standard
16/04/2018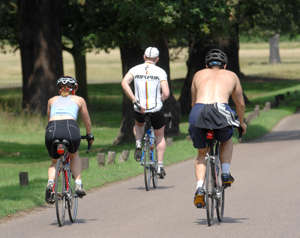 © Getty FILE: People enjoying the hot weather in Richmond Park, London. The London Marathon could be the hottest on record after temperatures in the capital soar to 25C this week.

The mercury will climb over the course of the week in London and the south east, peaking on Thursday before remaining warm into the weekend.
Temperatures could reach as high as 21C for the marathon, according to the Met Office, meaning there is a chance of it being the hottest ever.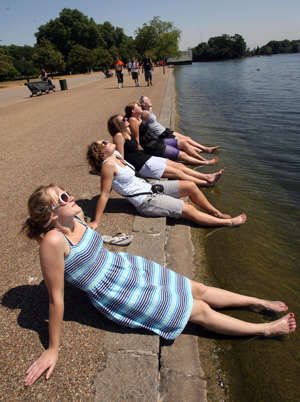 © Getty Woman in Hyde Park during a spell of hot weather, London The highest recorded temperature on marathon day was 21.7C at noon on April 22, 2007.

Virgin Money London Marathon event director Hugh Brashner said: "We have a number of contingency plans in place in case of hot weather and we will be sending advice to runners and spectators later in the week".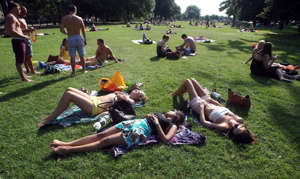 © Getty FILE: People enjoy the hot weather on Clapham Common in London. Elsewhere in the UK, the north west will see days of wind and rain before drier and brighter weather arrives from Wednesday.

Met Office Meteorologist John West told the Standard: "There is a deep low pressure system working its way across the Atlantic, the deepest we have seen for a number of years."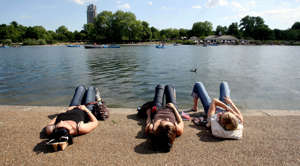 © Getty FILE: People enjoy the hot weather in Hyde Park, London. At the same time a high pressure system is being drawn in from the continent."

This is going to bring with it rather warm weather particularly in the south east.
"But there is going to be very much as north west/south east split with the possibility of gales and heavy rain in parts of Scotland and Northern Ireland."
But as we go through the week the high pressure spreads across the whole of the country, bringing fine weather, before breaking up."
© Getty FILE: People relaxing in the hot weather in Victoria Tower Gardens in London Temperatures are expected to reach 25C in the UK on Thursday, before cooler weather and showers return next week.

Mr West added: "The hot weather in London and the south east will see temperatures building day on day and by Thursday we are looking at the warmest day, 24 to 25C, which is way above average for this time of year."
It's not all good though, there will be an awful lot of tree pollen around and there are more likely to be higher levels of pollution.
"Next week we will see a return to more normal April weather, showers and cooler temperatures."
Related Slideshow: April Blooms: Spring Is on the Way (Provided by The Atlantic)