Ukip rocked by six resignations as pressure grows for Henry Bolton to go

Evening Standard
22/01/2018
Pressure was today mounting on Ukip leader Henry Bolton to step down following a flurry of resignations from his frontbench team.
The party's assistant deputy leader Mike Hookem MEP, local government spokesman Tim Aker and education spokesman David Kurten announced they had quit their posts just before lunchtime, bringing the number of senior departures today to six.
Deputy leader Margot Parker, immigration spokesman John Bickley and international trade spokesperson William Dartmouth have all also quit their posts, demanding Mr Bolton resigns.
Video: Ukip Spokesman Quits Live On LBC Over Bolton Leadership (LBC)
Mr Bolton has refused to step aside. At an extraordinary general meeting (EGM) next month members will vote whether he should stay on.
Mr Hookem said he had resigned on Friday as the situation had become an "almost farcical scandal", adding: "Ukip is now in the preposterous situation of the leader's private life being of more interest than the party. This is unfair to all those who have put in so much time, effort and money." 

Mr Aker tweeted: "I cannot continue to serve under Henry Bolton. I hope he does the right thing and resigns before the EGM, so the party can move forward with a new leader."
Today I am resigning as UKIP's Local Government Spokesman. I cannot continue to serve under Henry Bolton. I hope he does the right thing and resigns before the EGM, so the Party can move forward with a new leader.

— Tim Aker MEP (@Tim_Aker) January 22, 2018
Mr Kurten said on Twitter: "It is time for him [Bolton] to step down with dignity rather than extending the current debacle for another 4 weeks." He will make a statement this afternoon.

In his resignation letter to Mr Bolton, MEP Mr Dartmouth told him: "Your position is untenable. I am unable to serve under you."
The six to leave so far:
Education spokesman David Kurten
Local government spokesman Tim Aker
Assistant deputy leader Mike Hookem
Trade spokesman William Dartmouth
Immigration spokesman John Bickley
Deputy leader Margot Parker
Mr Bickley resigned in a live interview with LBC radio this morning, saying of Mr Bolton: "I really believe he needs to go and focus on sorting out his personal life and get away from politics."

Ms Parker, who is also an MEP, told the BBC: "It would be quicker and cleaner if he came to the conclusion he could go sooner rather than later."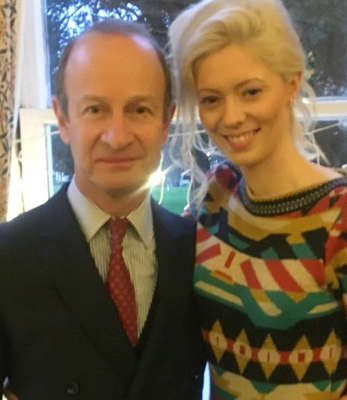 The latest departures follow the resignation of Ukip MEP Bill Etheridge as Mr Bolton's spokesman last week.
He called on Facebook for "the removal of Henry Bolton before his ego finally drags the party down".
The resignations came after Ukip's ruling executive backed a motion of no confidence in their leader yesterday, following disclosures that his girlfriend Jo Marney, 25, sent racist messages about Meghan Markle.
Former army captain Mr Bolton, 54, a married father-of-three, left his wife Tatiana Smurova-Bolton, 42, over Christmas and began a relationship with Marney, a model. She has since quit Ukip and apologised "unreservedly" for the "shocking language".
The party's most senior elected official in London, Peter Whittle AM, said: "Henry Bolton has always made a great deal of his military career and integrity. If he truly is a man of honour — or indeed, if he has a shred of personal pride at all — he should resign now."
Mr Bolton has said last week that he had ended the "romantic element" of his relationship with Miss Marney, but was helping her "rebuilding her life".
Never miss an important story, Follow us on Facebook, and on Twitter