Universal credit to blame for soaring food bank use, government admits after years of denial
The Independent
11/02/2019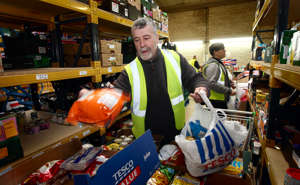 © Getty Volunteers Des Flanagan and Jamie watts (background) at the Black Country Food Bank prepare food parcels for vulnerable individuals and families at their base in Halesowen Universal credit is the main cause of the explosion in food bank use, the government has admitted, after years of denying the link.
Delays that meant people "had difficulty accessing their money early enough" were to blame for claimants seeking emergency food aid, Amber Rudd, the work and pensions secretary, told MPs.
The admission comes after successive ministers refused to acknowledge the link between the controversial new benefit and the people flocking to food banks.
Related: Universal credit crisis: Girl, 9, forced to beg work after mum died 
In November 2017, The Independent revealed that the department for work and pensions (DWP) was refusing to "collect or publish statistics" to corroborate, or disprove, the mounting evidence.
But, answering questions in the Commons, Ms Rudd said: "We are committed to a strong safety net where people need it.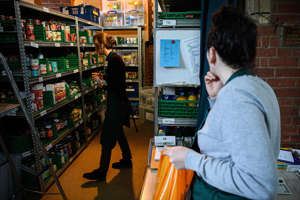 "It is absolutely clear that there were challenges with the initial rollout of universal credit –and the main issue that led to an increase in food bank use could have been the fact that people had difficulty accessing their money early enough."
Related: Universal Credit could be 'the greatest administrative blunder by a British government yet'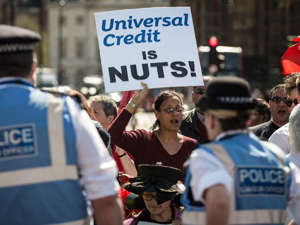 Ms Rudd insisted she had now "made changes" that made it easier for claimants to receive advances on payments.
The comments were welcomed by Frank Field, the Labour chairman of the Commons work and pensions committee – but he said they must be followed by concrete action.
"At last, we have a secretary of state who is willing to have a much more open debate on the link that exists between Universal credit and the need for food banks," Mr Field said.
"Most importantly for claimants, this debate needs to result in action which eliminates the lengthy wait for benefits to be paid."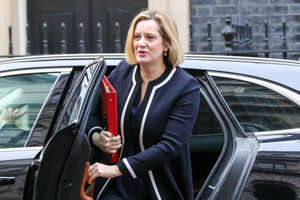 Charities and MPs of all parties have long warned that long delays delivering the benefit payments have left desperate people with no choice but to go to food banks.
The Trussell Trust, the biggest provider, reported that its figures showed food bank use in areas where universal credit had been introduced was up by an average of 30 per cent.
In areas that had not been reached by the new benefit, demand had also risen significantly – but by 12 per cent, less than half as much.
Ms Rudd's admission comes after last year's budget announced an extra £1bn for universal credit to – ministers said – cut the wait for a first payment from 5 to 3 weeks.
A further £1.7bn will improve "work allowances", the amount someone can earn before their benefits start to be clawed back from their higher income, which will be worth up to £630.
Since taking up the job in November, Ms Rudd has promised a more "compassionate" approach to universal credit – including by slowing up the transfer of millions of extra claimants from existing benefits.
However, the Resolution Foundation think-tank said the number of working families who will lose out had been cut by only 200,000, from 3.2 to 3 million.