Vehicles hijacked and torched following police clearing of Loyalist bonfires in Northern Ireland
The Independent
11/07/2018
© Provided by Independent Digital News & Media Limited The UVF has threatened to "orchestrate and participate in serious disorder", police have said, following a day of tensions where two bonfire sites in east Belfast were cleared.
Contractors escorted by police officers were dispatched to dismantle pyres at Bloomfield Walkway and Cluan Place on Wednesday evening following an order from a High Court judge.
Police moved into the area at around 5.30am on Wednesday morning, but loyalists set the Bloomfield Walkway bonfire alight before the material could be seized.
The Cluan Place pyre was cleared later that day.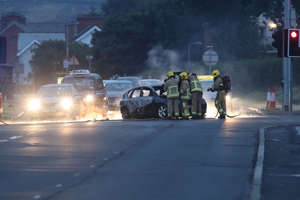 Hundreds of bonfires are set to be lit at midnight as part of a loyalist tradition to mark the anniversary of the protestant King William's victory over the Catholic King James at the Battle of the Boyne in 1690.
The threat made by the UVF in retaliation to the clearing of bonfires is believed to be directed at police officers.
Police Service of Northern Ireland (PSNI) assistant chief constable Alan Todd said resourcing plans would be reviewed as a result of the threat.

"Police have received information from the community which indicates that the East Belfast UVF intend to orchestrate and participate in serious disorder in East Belfast this evening directed against my officers," he said.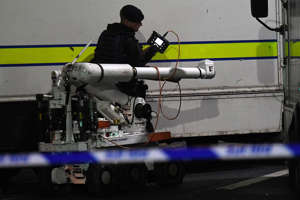 "I would strongly urge people to desist from engaging in any violent or criminal behaviour.
"I would also appeal to those who have influence in this community to discourage people from taking part in any illegal activity. The safety of the public and my officers is of paramount importance and accordingly I will be reviewing my resourcing plans to ensure there is an appropriate and proportionate policing operation in place to deal with any disorder should it occur."
The PSNI has also confirmed that a viable pipe bomb has been found at a peace line in east Belfast.
It follows reports of a loud bang at the barrier close to the loyalist Cluan Place area on Wednesday afternoon, where earlier one of the bonfires had been removed.
The remains of the device were found on the nationalist side of the peaceline on Clandeboye Drive.
In Newtownards, County Down, a bus carrying passengers was hijacked by masked men, who were believed to have been carrying firearms.
None of the passengers were injured in the incident, but the bus was later set on fire by the hijackers.
There were also reports of a security alert at Belfast City Airport on Wednesday evening after a suspicious device was found, prompting authorities to put the area on lockdown until around 9.40pm.
Additional reporting by PA