Westminster attacker ignored armed officers' warnings, inquest told

The Guardian
10/10/2018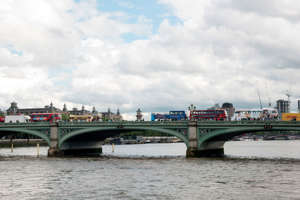 © Getty Images The Westminster Bridge attacker ignored several verbal warnings from firearms officers and continued charging towards them before he was shot, an inquest has heard.

CCTV footage played in court showed Khalid Masood moving quickly towards armed close protection officers with two large kitchen knives. The two close protection officers who were at the scene, who gave evidence anonymously, described Masood as a man with a clear intention to injure or kill.
Masood, 52, from Kent, killed five people on 22 March last year in an attack lasting just 82 seconds. He first drove his car into pedestrians on Westminster Bridge, killing Kurt Cochran, 54, Leslie Rhodes, 75, Aysha Frade, 44, and Andreea Cristea, 31, before crashing into a barrier at the Palace of Westminster. He then jumped out of the vehicle and ran towards the gates of parliament, where he stabbed PC Keith Palmer to death.
The officer who shot Masood, known only as SA 74 , said he had heard an incredibly loud noise. He told the inquest at the Old Bailey: "I'd describe it as an explosion or similar, which was directly in front of me, towards Westminster Bridge.

Download the all-new Microsoft News app to receive up-to-the minute news from the world's best sources – available now on iOS and Android
"I had no idea what had taken place at the time. I couldn't clearly see, I then became aware of lot of incredibly loud screaming, people shouting."
© PA Khalid Masood killed five people on 22 March last year in an attack lasting just 82 seconds He said a "significant number" of people were coming towards him, away from carriage gates. He started jogging towards the gates. He saw uniformed police officers with batons drawn, frantically moving towards him and trying to get away from someone. "I simply didn't know what was happening, but I was now certain that something terrible was happening," he said.
CCTV footage showed SA 74 first head towards Masood before moving backwards in an attempt to give the attacker a chance to stop before opening fire. The officer broke down while giving his testimony.
"I shouted at him to drop the knife," he told the court, adding: "It had no effect." Masood continued moving towards him. "He was going to kill me," he said. SA 74 then fired several shots.
Read more: Bodyguard tells of moment Khalid Masood was shot dead
The other officer to give evidence, known only as SB 73, told the inquest he first saw unarmed police officers running towards them, through carriage gates and then saw the attacker. "He was moving at a pace, he was coming towards us," he told the court. "My immediate thought was he had obviously used force to get through those gates."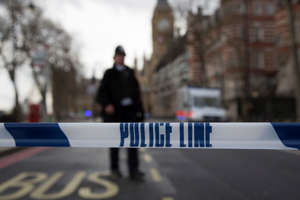 SB 73 said he shouted verbal warnings at the attacker and confirmed Masood did not change direction or speed but carried on towards them. When asked if Masood responded in any way, the officer answered no. He told the inquest he had hoped Masood would stop and did not want to use deadly force. When asked if he could think of a greater justification for having to fire, the officer said "no sir".
Both protection officers quickly carried out first aid on Masood after he was shot. SB 73 administered CPR while waiting for a defibrillator to arrive. He told the court: "At that time he was still breathing. His chest was still rising and falling. He was going grey," adding: "He basically stopped breathing so I started CPR – chest compressions."
Watch: Westminster attack widow says husband was 'selfless' [ITN News]
The first defibrillator was faulty and he continued to provide CPR until a second was provided. Later in the day, he was taken to the hospital as he was covered in Masood's blood.
The inquest into Masood's death opened last week. The jury was told "nobody is on trial" and that there was "no question of attributing blame". The inquest, which is expected to conclude at the end of the week, is exploring the events leading up to Masood's death.
As well as hearing evidence from anonymous close protection officers, the inquest will receive testimony from medical professionals who provided care to him and look at Masood's past to see what was known to authorities.