Yulia Skripal says she is lucky to have survived 'assassination attempt'

Sky News
23/05/2018
Video: Yulia Skripal: world has turned upside down after assassination attempt (Provided by Reuters)
Yulia Skripal has said she feels lucky to have survived being poisoned and she would one day like to return home to Russia.
Ms Skripal, who was poisoned in March in Salisbury - along with her father, said: "We are so lucky to have both survived this attempted assassination. Our recovery has been slow and extremely painful."
Speaking from a secret location in London, where she is under police protection, she added: "As I try to come to terms with the devastating changes thrust upon me both physically and emotionally, I take one day at a time and want to help care for my dad till his full recovery.
"In the longer term, I hope to return home to my country." UK government tests identified the deadly novichok nerve agent as the substance used on the Skripals.
It is believed to have been put on the handle of Mr Skripal's home.
© Reuters Yulia Skripal "The fact that a nerve agent was used to do this is shocking. My life has been turned upside down," said Ms Skripal - who was appearing on camera for the first time since the attack and had a distinctive red scar on her neck.
She declined to go into specifics, but said the treatment necessary to save her life had been "invasive, painful and depressing".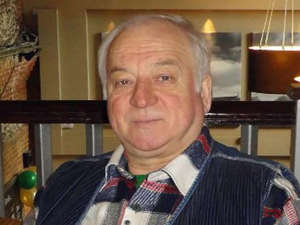 © Sky News Sergei Skripal was discharged from hospital last week The 33-year-old Russian and her father, Sergei, a former double agent who now lives in the UK, were found unresponsive on a bench in Salisbury on 4 March.
They were in a coma for weeks after the attempt on their lives, and Sergei was only discharged from hospital on 18 May. It was initially feared they could have suffered irreparable damage.
The incident sparked a massive police operation in Salisbury, as well as a diplomatic row that led to dozens of Russian diplomats being expelled from countries around the world.
© Reuters Yulia Skripal The Russian government denies Western claims that it was behind the poisoning and has offered to help the pair Ms Skripal said she was "grateful for the offers of assistance from the Russia embassy but at the moment I do not wish to avail myself of their services".
She added: "I want to reiterate what I said in my earlier statement, that no one speaks for me, or for my father but ourselves".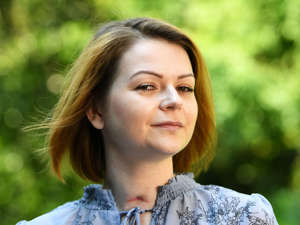 © Sky News Yulia Skripal said it was shocking that a nerve agent was used against her That appears to be a reference to statements by Ms Skripal's cousin that appeared shortly after the incident.

Ms Skripal also thanked medical staff and the people who helped them when they were found on a bench after having lunch in the city.
"I am grateful to all of the wonderful, kind staff at Salisbury hospital, a place I have become all too familiar with," she said.
"I also think fondly of those who helped us on the street on the day of the attack."
Slideshow: Russian spy poisoning: How it unfolded (Provided by Deutsche Welle)