Storm Hector to batter Britain with winds of up to 70mph

The Telegraph
14/06/2018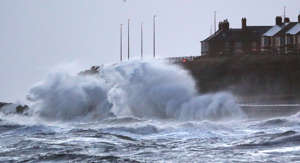 Gale winds of up to 70mph are due to hit the UK on Thursday as Storm Hector descends, with the Met Office warning of a threat to life.
Much of Britain is covered by a yellow warning, but the north and west of Northern Ireland - which will see the first winds hit Thursday morning - was subject to a more serious amber warning.
The Met Office said injuries and a danger to life was "likely" in coastal areas in Northern Ireland, with the chance of large waves and potential for beach debris to end up on roads, sea fronts and properties.
© Provided by The Telegraph People have been advised to take care during rush hour with potential disruption due to fallen trees and the possibility that outdoor summer furniture will have been blown around overnight.
The storm follows a weeks-long spell of sunshine and warmth, as Britain basked in an unusually hot start to summer.
As dawn breaks across the UK, a mass of cloud that is #StormHector lies to the northwest pic.twitter.com/UJ2bdY2f5q

— Met Office (@metoffice) 14 June 2018
The storm could disrupt royal proceedings; the Queen and the Duchess of Sussex are due to have their first official engagement together as they open Cheshire's Mersey Gateway Bridge.
Although there is not a weather warning yet for that area, they could face some stronger winds than usual.
The Met Office said: "The strongest winds will reach the west coast during the early hours of Thursday before spreading eastwards during the day.
Thursday morning's rush hour is looking wet and windy, especially for parts of the north, with some disruption to travel likely #StormHector #WeatherAware pic.twitter.com/lJyhStGs5D

— Met Office (@metoffice) June 13, 2018
"Westerly winds are likely to gust between 50 and 60mph in many areas and possibly around 70mph in some exposed locations. Winds should gradually ease from the west during Thursday afternoon.

"In addition, a spell of heavy rain will accompany the wind with the highest rainfall totals over parts of western Scotland."
The yellow warning remains in place until 3pm.
Met Office forecaster Sophie Yeomans added: "Over the rest of England and Wales it will just be a strong, blustery day.
"With any outdoor events planned, it may be something people are unprepared for or come as unexpected compared to the weather we have had recently."
Travel disruption is expected, and road, rail, air and ferry services could be badly affected.
It is also possible some buildings may be damaged, with a slight chance of power cuts in some parts - with the strongest winds expected in Argyll, near Oban. 
While the storm may dampen some outdoor plans, the Met Office is confident the hot, sunny weather should return before long, with the end of June set to be drier. 
#StormHector has been named. Impacts will first be felt over western Ireland, before transferring to parts of the north of the UK early Thursday morning https://t.co/sTKuvdxuAh @MetEireann #weatheraware pic.twitter.com/cVWBclvc5Q

— Met Office (@metoffice) June 13, 2018