UK Weather: Grab Your Brolly Because The Entire Country Will Be Drenched On Friday

HuffPost UK
09/11/2018
Drivers hitting the road for the weekend may want to consider setting off early, as a blanket of heavy rain is set to cover the entire nation later on Friday.
Yellow wind and rain warnings are in place covering parts of south and south west England, Wales, Northern Ireland and parts of Scotland.
Up to 50mm of rainfall is expected in some areas over higher ground.
Download the all-new Microsoft News app to receive up-to-the minute news from the world's best sources – available now on iOS and Android
Heavy coats will be in order gusts of up to 60mph are anticipated around coastal areas including the English channel, while inland, winds could reach 50mph.

Some 15 to 25mm of rainfall is expected as the clouds roll in gradually from west to east throughout Friday.
"In the west there will be outbreaks of showery rain and this will make its way eastwards, so most places will be a bit cloudy to start with and there will be a little bit of rain for a time, everywhere at some point – either earlier in the day or sometime in the afternoon," said Alex Burkill, Met Office meteorologist.
Most of the wet and windy weather will hit Cornwall and Northern Ireland by midday.
"By 9pm tomorrow evening, pretty much all of mainland UK is going to be under this heavy rain with strong winds," Burkill added.
"There will be spray on the roads, there could be some surface flooding as well, so be aware of that.
Gallery: Vintage winter photos from around the world (Photos)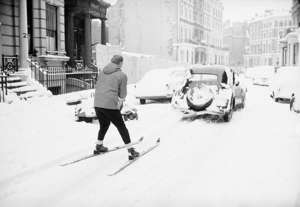 "Consider delaying or perhaps bringing forward the time of your journey because in the London area, particularly the east, the rain won't be arriving until 6 or 7pm in the evening. In those areas, I'd probably try to head out earlier."
Flood alerts have been put in place by the Environment Agency around Somerset, south Cornwall and south Devon.
Although some localised flooding and travel disruption is expected, forecasters it won't be anything out of the ordinary for this time of the year.
The persistent wet and windy conditions will last only a short period, with sun and mild temperatures setting the scene for the weekend.

For those heading out for Armistice Day ceremonies on Sunday, the morning should start off dry and sunny, before on and off rain creeps in later on.
An above average temperature of 14C is expected tomorrow, but rain and wind will make it feel much cooler, while Saturday and Sunday will bring some promising highs into the mid-teens, Burkill said.
Across Scotland over the weekend, temperatures will reach 10C, while the midlands and the south will see sightly warmer conditions of 11C to 13C.