Amazon removes dwarf image from patent application following backlash
The Independent
09/11/2018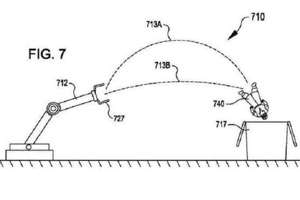 Amazon has removed an image of a robot throwing a dwarf from one of its patent applications, after it was met with criticism from a group that represents people with dwarfism.
In July, the company submitted the application to patent "robotic tossing," a system for its warehouses that would use robot arms to throw packages.
However, the accompanying design was drawn to show a dwarf being thrown by the robotic arms - instead of a package.
Download the all-new Microsoft News app to receive up-to-the minute news from the world's best sources – available now on iOS and Android
In the original filing, Amazon explained: "The inventory system causes the dwarf to be brought within reach of the robotic arm."

In response to the offensive sketch, the organisation Little People of America told the Seattle Times that it was a "real concern."
"Any time that 'tossing' and 'dwarf,' that those words are put together, is a real concern for us," advocacy director Michelle Kraus said. "It really opens up the possibility of mocking and really dehumanising little people, people of short stature."
The group was in part referring to the practice of "dwarf-tossing," where people with dwarfism are dressed in padding clothing and thrown around for amusement.
At the time, Amazon defended the image in a statement, and suggested the example of what the robotic arms could move should "not be taken out of context."
"The patent talks about everyday inventory items, including a mug, dwarf figurine, and rubber ducky," the company said.
Gallery: 24 facts you may not know about Amazon founder Jeff Bezos (Photos)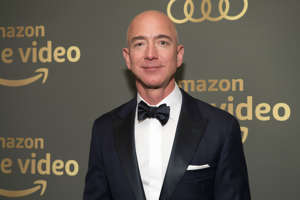 In a new version of the patent submitted Thursday, however, Amazon had replaced the dwarf with a box - a decision made to clear up the company's intention.
"The intention was simply to illustrate a robotic arm moving products, given it was taken out of context, we simply updated the illustration," the company told The Telegraph.

Dwarfism is a condition characterised by unusually short height, according to the NHS.
There are more than 300 conditions that can cause dwarfism, with the most common condition affecting up to one in 15,000 people.
The Independent has contacted Amazon for comment.