Anne Frank wrote 'dirty' jokes about sex and prostitution, researchers discover in hidden pages of her diary

Evening Standard
16/05/2018
(Provided by Wochit)
Anne Frank wrote a number of dirty jokes about prostitution and told of her thoughts on sex in hidden pages of her diary, researchers have revealed
The young Jewish teenager's diary, written when she was in hiding from the Nazis, became world-famous when it was published after her death and at the end of the war.
Two hidden pages, reportedly covered with gummed brown paper to hide her risqué writing from her family, have now been read by researchers.
The entries, uncovered using new imaging techniques, were written on 28 September 1942, not long after the 13-year-old Anne went into hiding in Amsterdam.
One of her jokes read: "Do you know why the German Wehrmacht girls are in Holland? As mattresses for the soldiers."
On prostitution, she wrote: "All men, if they are normal, go with women, women like that accost them on the street and then they go together. In Paris they have big houses for that. Papa has been there." 
In the passage on sex, Anne described how a young woman gets her period around age 14, saying that it is "a sign that she is ripe to have relations with a man but one doesn't do that of course before one is married."
She also wrote: "A man had a very ugly wife and he didn't want to have relations with her. One evening he came home and then he saw his friend in bed with his wife, then the man said: `He gets to and I have to!!!"'
Frank van Vree, director of the Netherlands Institute for War, Holocaust and Genocide Studies, said: "Anyone who reads the passages that have now been discovered will be unable to suppress a smile."
"The `dirty' jokes are classics among growing children. They make it clear that Anne, with all her gifts, was above all also an ordinary girl." 
Anne wrote candidly in other parts of her diary about her burgeoning sexuality, her anatomy and her impending period.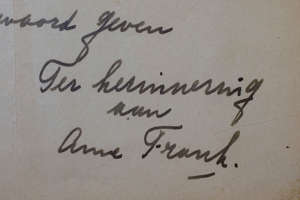 Those passages were censored by her father before the diary was first published in 1947 but became available in more recent unabridged editions.
The institutions involved in the latest research said that because of copyright issues, it is unclear whether the passages will be incorporated into new editions. 
Related: Anne Frank's life in photos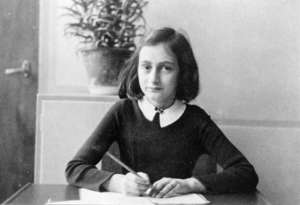 The deciphering was done by researchers from the Anne Frank museum, the Institute for War, Holocaust and Genocide Studies and the Huygens Institute of Netherlands History.