British Airways: Airline cancels all flights from Gatwick and Heathrow for rest of the day after computer systems crash

Evening Standard
27/05/2017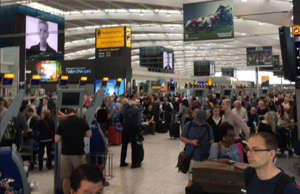 © Evening Standard The queues at Heathrow Airport British Airways has cancelled all flights from Heathrow and Gatwick for the rest of the day after its computer systems crashed worldwide – causing chaos for holiday makers.
Passengers trying to travel over the Bank Holiday weekend were left stranded with huge queues forming at both airports following the company's computer system failure.
After first saying all BA flights were cancelled until 6pm, a spokesman for no the airline said no planes would depart for the rest of the day.
"Following the major IT system failure experienced earlier today, with regret we have had to cancel all flights leaving from Heathrow and Gatwick for the rest of today [Saturday]," he said.
"We are working hard to get our customers who were due to fly today onto the next available flights over the course of the rest of the weekend. Those unable to fly will be offered a full refund.

"The system outage has also affected our call centres and our website but we will update customers as soon as we are able to."
Some passengers have claimed they were told by staff that the airline had been hit by a cyber attack, though BA said it found "no evidence" of a hacking.
Domestic and international flights are being affected by the outage.
A BA spokesman added: "Most long-haul flights due to land in London tomorrow [Sunday] are expected to arrive as normal, and we are working to restore our services from tomorrow, although some delays and disruption may continue into Sunday. 

"We are extremely sorry for the inconvenience this is causing our customers during this busy holiday period."
© Provided by Independent Print Limited heathrow2.jpg Numerous passengers took to social media on Saturday morning to complain about the outage and reported huge queues at check in counters.
Workers at the airport have also reportedly had to write gate information on white boards.
The outage comes as thousands of people prepare to leave the UK for Bank Holiday celebrations, with numerous travellers taking to social media to vent their frustration at the cancellations.

Melissa Davis, who runs a legal PR agency in London, was held for more than an hour and a half on the tarmac at Heathrow, on a BA flight returning from Belfast.
Speaking from the plane, Miss Davis said the air conditioning had been off "so I don't think we will be going anywhere any time soon", but added that the passengers had been kept informed by their pilot and given water while they remained seated.
She later said she and others were then told they could not transfer to other flights because "they can't bring up our details".
It comes after passengers at Gatwick Airport faced chaotic scenes and long queues due to a baggage system problem on Friday.
Those taking flights were forced to travel without their hold bags and were asked to carry any essential items in their hand luggage.