Car spirals out of control and careers through roof in freak Missouri crash

Evening Standard
17/07/2017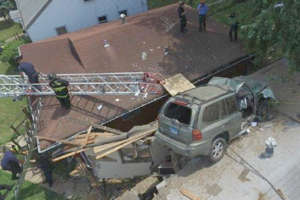 A car spiralled out of control and crashed through the roof of a home in a freak accident in Missouri.
The SUV careered through the ceiling after mounting an embankment that helped launch it onto the air during the crash in St Louis, according to local authorities.
Dramatic footage from the scene shows the vehicle nose down in the roof of the building while firefighters work to secure the area.
The driver is in critical condition in hospital after suffering lower body injuries in the freak incident on Sunday, St Louis Fire Department said in statement.

Michael Arras, the department's deputy chief of special operations, told St Louis Post-Dispatch it was like nothing he had ever seen.
Bruce Redding, 66, reportedly returned home from the gym to find his house destroyed by the car.
He told the news website: "I can see straight through my house… this is everything that I've worked for all my life, and for someone to run through a stop sign and destroy it."
He added: "The good thing is, I'm alive."
The local fire department said in statement: "The vehicle's occupant was rescued and transported by #EMS in critical condition. "The homeowner returned home from the gym to discover the incident."