Cubs of the Caliphate: Syria's children of Islamic State

Sky News
10/02/2019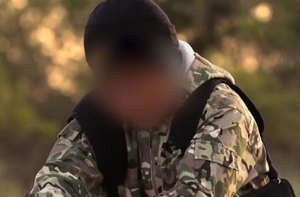 © Sky News The armed marksmen on the roof of this nondescript building on the Iraqi-Syria border stare down at us. They are present 24 hours a day to guard the centre's young residents.
Inside the heavy front door are the children most feared throughout Syria today, perhaps the world.
They are the so-called 'cubs of the caliphate' - children brought up in the self-proclaimed area in Iraq and Syria under control of Islamic State militants.
The centre's co-director tells us they were all discovered in what can only be described as compromising positions - with suicide belts on, with weapons, in the middle of fighting.
"Some wanted to blow up the soldiers who were rescuing them," the head of the centre says.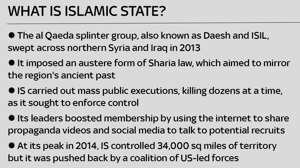 Some have seen their siblings blown up, some have lost parents who died fighting for IS and some still have mothers or fathers fighting for the terror group. Their stories are truly frightening.
We're given strict instructions not to ask the boys anything about their time under the control of what was once the world's most terrifying fanatical terror group.
But their teachers and counsellors tell us how many have arrived traumatised, physically and emotionally broken.
There are cameras all over the centre. This is the only one of its kind and it's offering a refuge to the children who somehow survived IS against all the odds. Here they are finally put into school and given extensive counselling to cope with their trauma.
It's probably the first time for a long while that their lives have been actually valued by anybody. After - in some instances - years of brainwashing this is supposed to be the Islamic State antidote.
Pierre, 13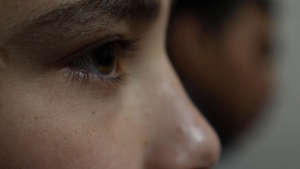 © Sky News "The very first thing I want is to be with my mum and stay with my mum and then I'm going to tell her everything that happened…"
We join a geography lesson in which a group of boys are enthusiastically embracing a lecture about the vastness of the solar system.
Their tiny world for the past few years has been one in which they've been cut off from everywhere else. There has been no outside world as far as they've been led to believe - no internet, no television, no normality.
Instead, they've been utterly immersed - almost drowned - in war, blood, survival and unimaginable death.
They've seen death, up close and far too personally. Often, they've survived catastrophic bomb attacks and lost all family members. They have been duped, let down and lied to.
One little boy speaks to us in perfect French. His voice is like a whisper, soft and child-like. He tells us he was just nine years old when he thought he was going on holiday to Turkey with his father and two elder brothers.
But his father had left his mother and their home in Paris and taken the rest of the family to Syria to join the caliphate.
He doesn't know what's happened to his father - or he's not telling us - but he softly says in a matter-of-fact voice that both his elder brothers died in a bomb blast while they were sleeping.
There are no tears. There is no grief. Just resignation.
Related: Fears IS sleeper cells and 'undead' suicide bombers have infiltrated Europe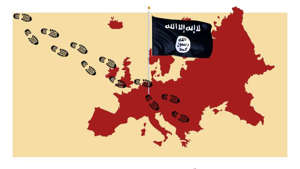 The little boy spent four years living inside the caliphate - a third of his short life.
He's still very small and doesn't look big enough to be 13. We ask him several times if he's definitely that old. He seems among the youngest here although the director insists there are younger ones.
"Although we don't take anyone younger than 10," he says.
The little boy begs us to take a letter and some gifts he's made for his mother in Paris. He asks us not to look at the letter. It's private, but the front has a big red heart drawn on it and words in English on the front: "I love you."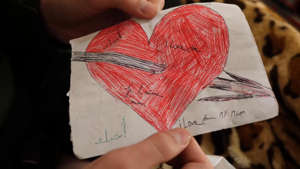 "I want to just go home to my mother," he says. "I will tell her everything that's happened... I'll only tell her."
He says he misses France a lot and then, as we reminisce about his former life, he admits: "I miss Disneyland. All the attractions and the chocolate."
He smiles sheepishly.
Disneyland was the last holiday they had as a family before he was taken to war-torn Syria. I suspect he's hankering more after the security and safety of that time before he was thrown into bombings, blasts and bullets.
Related: Inside the IS tunnel network (Reuters)
He can now speak Arabic and Russian after his years in the caliphate and switches between the different languages easily and fluently.
The little boy takes us into his dormitory which contains a selection of bunk beds.
Hamid, age unknown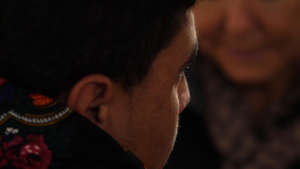 © Sky News "When I was in the ISIS region I used to see lots of people whose arms and legs had been amputated by IS and there was a lot of blood – so when I first came here, I had lots of really bad nightmares but now I'm slowly getting over it…"
On the top of one of them are two other youngsters. One says he was born in Toulouse and has a French passport. He smiles continually, but the boys tease him about how he cries every night.
The boy from Toulouse just smiles blankly. He talks bitterly about his mother and how she's an IS fighter - still inside the remaining enclave, still battling.
"She doesn't care about me," he says bitterly. "I hate her. She thinks only of herself."
It is difficult to get an accurate picture of exactly what's happened to him but he talks about spending time in an adult prison despite being only 16 years old.
Related: British IS suspects captured in Syria plead to be brought home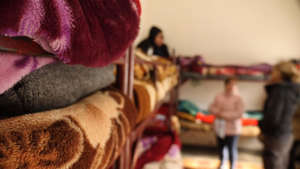 © Sky News The director says when he first arrived at the centre on the Iraqi-Syrian border, he appeared paralysed, he was so emotionally affected.
To us - the strangers - at first glance, he seems calm. But behind the shy smile, there is clearly a lot of deep, ingrained pain. He considers himself an orphan now and yearns to go back to France and resume his previous life.
It may not be that easy. This centre is controversial - because of its inhabitants and what they've lived through.
Not everyone is as sympathetic to them or their past. And with a number of IS sleeper cells believed to be operating despite the group's military defeat, there must be a risk the extremists might try to re-capture the youngsters.
The extremists gloried in turning their young boys into soldiers who'd die for the cause.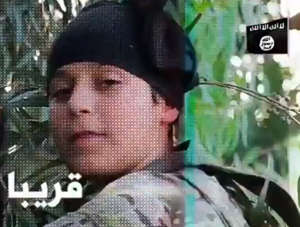 They continually used them in propaganda films which were disseminated on the internet.
Young boys were filmed executing hostages, firing bullets through the back of their heads as their captives knelt before them.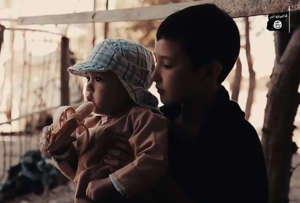 © Sky News A still from an IS propaganda film that shows children training for combat It's hard to imagine how this fear and this propaganda might affect a young mind; how even if you never entered their physical "army" training, how terrified you'd be that they would one day come for you.
There are also a number of children who are not Syrian at this centre, with foreign heritage and residency - from France, from Russia, from a number of eastern European countries. Whose responsibility are they?
A map showing the location of Islamic State's last stronghold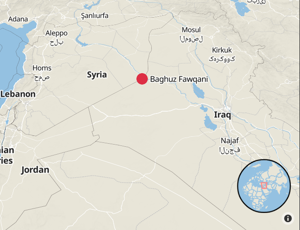 "We will take them," says the centre's director. "They are just children, just children. They were forced to do these actions for Daesh. They could not help it and they have suffered.
"Their governments should take them back and give them new lives because this would be the best future for the children.
"They came from there, they are their responsibility. But if they decide to shun them, then we will take them," he says.
With control of territory shifting all the time, and the region as insecure as ever, that decision may well be taken out of his hands.
Editor's note: The name of centre, the name of the director and the exact location have been withheld on grounds of security.