Donald Trump threatens to 'totally destroy' North Korea

Sky News
19/09/2017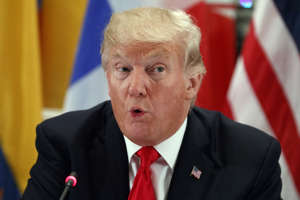 © Catalyst Donald Trump threatens to 'totally destroy' North Korea The US President described Pyongyang's leader Kim Jong Un as a "rocket man on a suicide mission for himself and his regime" in his sternest warning yet to North Korea.
Speaking at the UN General Assembly in New York for the first time, Mr Trump said: "The United States is ready, willing and able, but hopefully this will not be necessary."
Related: Trump Says Time for World to Isolate North Korean Regime (Provided by:Bloomberg)
The President also called on member states to work together to isolate Kim until he stops his "hostile" actions, 
a reference to a series of recent ballistic missile launches and nuclear tests by Pyongyang.
In what will be seen as a thinly veiled criticism of China, North Korea's major trading partner, Mr Trump said: "It is an outrage that some nations would not only trade with such a regime but would arm, supply and financially support a country that imperils the world with nuclear conflict."
Mr Trump also took aim at Iran, denouncing the West's nuclear deal with Tehran as an "embarrassment" - the latest sign he plans to rip up or renegotiate the landmark accord.
He said the Iranian government was running an "economically depleted rogue state" whose prime export is violence.
"Frankly, that deal is an embarrassment to the United States, and I don't think you've heard the last of it," Mr Trump added.
"Believe me. It is time for the entire world to join us in demanding that Iran's government end its pursuit of death and destruction."
Mr Trump said world leaders "cannot abide" by the nuclear accord if it "provides cover" for Iran to eventually build its nuclear programme.