FBI agents swarm Jeffrey Epstein's private Caribbean island

NBC News
5 days ago
UP NEXT
FBI agents raided Jeffrey Epstein's private island in the Caribbean Monday in a vivid display that the probe into his alleged sex-trafficking ring is continuing despite his death.
A swarm of federal agents were seen fanning out across Little St. James in golf carts about 10:30 a.m.
"We were just trying to look at pretty fish and swim with turtles and here we are in the middle of an FBI raid," said Kelly Quinn, the owner of Salty Dog Day Sails, who was running a sailing charter in the area.
Related: Epstein dossier - 300 Britons named
© Salty Dog Day Sails FBI agents on Little St. James Island, which was purchased by Jeffrey Epstein in 1998. "This has been something on our radar for years," Quinn added. "We're all really curious why it's happening now."
Two senior law enforcement officials briefed on the investigation confirmed that the FBI launched a search of Epstein's private island home off the coast of St. Thomas in the U.S. Virgin Islands.
Related: Epstein's accusers call her his protector and procurer. Is Ghislaine Maxwell now prosecutors' target?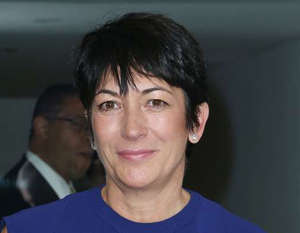 The search was directed by the Epstein task force led by the U.S. Attorney's Office for the Southern District of New York, the officials said.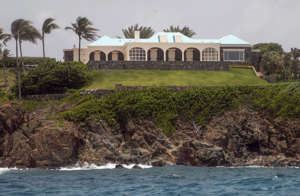 © AP This Tuesday, July 9, 2019 photo shows a structure on Little Saint James Island, in the U. S. Virgin Islands. Locals recalled seeing Jeffery Epstein's black helicopter flying back and forth from the international airport in St. Thomas to his helipad on Little St. James Island, where he built a cream colored mansion with a bright turquoise roof surrounded by several other structures including the maids' quarters and a massive, square-shaped white building on one end of the island that some say is a music room fitted with acoustic walls. (AP Photo/Gianfranco Gaglione) The raid was launched two days after Epstein was found unresponsive in his cell at the Metropolitan Correctional Center in New York City. He was pronounced dead at a lower Manhattan hospital. Multiple law enforcement officials said Epstein appeared to have hanged himself, but his official cause of death is pending.
Epstein had been held at the federal jail since July 6, when he was arrested on charges of trafficking and sexually abusing girls as young as 14 in the early 2000s. He was facing up to 45 years in prison if convicted on two counts of sex trafficking and conspiracy.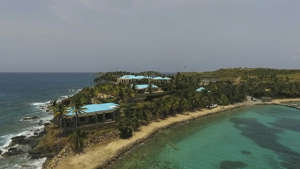 © AP Epstein purchased the 70-acre island off the coast of St. Thomas for $7.95 million in 1998. He went on to build a sprawling estate featuring a 24,000-square-foot private residence, two pools, a spa and an odd blue-striped structure that has been the subject of endless online fascination.
The investigation into Epstein's alleged sex trafficking network is continuing despite his death, multiple top law enforcement officials have said.
"To those brave young women who have already come forward and to the many others who have yet to do so, let me reiterate that we remain committed to standing for you, and our investigation of the conduct charged in the indictment — which included a conspiracy count — remains ongoing," U.S. Attorney Geoffrey Berman said in a statement Saturday.
In photos: Epstein's 2 private islands in the Caribbean: