German conservatives pick a Merkel ally to be party leader, signaling continuity and a long goodbye

The Washington Post
07/12/2018
A special message from MSN:

While Christmas is a time of joy for most of us, that's not the case for the UK's most vulnerable children and young people. We've partnered with giving platform Benevity to raise funds for two charities - the NSPCC and The Children's Society – to try to help change that. You can help make a difference - please donate now.
HAMBURG, Germany — Germany's conservatives on Friday picked Chancellor Angela Merkel's preferred successor as party leader, delivering Merkel a badly needed victory that solidifies her legacy and gives her the shot to govern for as long as three more years.
The selection of Annegret Kramp-Karrenbauer, a 56-year-old moderate whose unflashy and consensual style resemble Merkel's own, signaled a preference for continuity over radical change among members of the Christian Democratic Union (CDU).
Kramp-Karrenbauer now becomes the favorite to take over as Germany's next chancellor, though she may have to wait. Merkel has said she intends to stay in office until 2021, and with her ally as party leader, that is at least possible.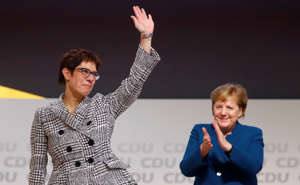 It would not have been had the party picked Kramp-Karrenbauer's top rival, 63-year-old corporate chieftain Friedrich Merz. Merz had represented for many supporters a chance to return the CDU to its conservative roots after 18 years in which Merkel had steered the party to the center — and even the left.
© Krisztian Bocsi/Bloomberg Friedrich Merz lost his bid as leader of the Christian Democrat Union (CDU). Merkel derailed Merz's career early in her tenure by taking over his party leadership post, and he was said to bear a grudge that never fully eased. Merz as party leader and Merkel as chancellor would have been an unwieldy arrangement unlikely to last.
Kramp-Karrenbauer won Friday's vote in the second-round of balloting, eking out a bare majority in a closely divided party.
Merkel has been a giant not only of German politics, but also of European and world affairs. She has transformed the country during her tenure, and played a central role in resolving a seemingly endless string of international crises.
Related: 'It doesn't matter who replaces Merkel. Germany is broken.'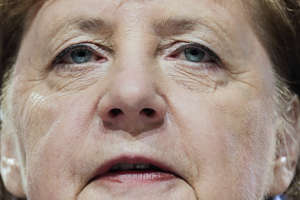 In Kramp-Karrenbauer, she gets a partner who shares both her outlook and her style. Last spring, Merkel tapped her to be general secretary — the No. 2 job in the party — in a move widely seen as an effort to groom her for national leadership. Before that, Kramp-Karrenbauer had been state premier in the tiny west German region of Saarland, where she was known for working across party lines and earned widespread approval.
The selection of the CDU's leader came in a vote of 1,001 delegates at the party's annual conference, which was held in a cavernous convention center in the northern port city of Hamburg.
Party elders and office-holders voted by secret ballot, with each of the three main candidates first given the chance to make their pitch. In addition to Kramp-Karrenbauer and Merz, Health Minister Jens Spahn also ran, finishing a distant third.
© Odd Andersen/AFP/Getty Images Delegates cast their votes for the new leader of Germany's conservative Christian Democratic Union (CDU) party on Friday. Until recently, Merkel had been widely expected to seek another term as party leader. But after a series of disappointing election results, she stunned the German political world in October by announcing she would stand down.
The vote Friday was preceded by an extended goodbye to Merkel. Party members waved signs reading, "Thanks, boss" and gave her a standing ovation lasting more than nine minutes after she gave her final speech as CDU leader.
"People, we have a lot to get done today," Merkel shouted to the crowd as she motioned for delegates to sit.
While Merkel never publicly endorsed a candidate, her preference for Kramp-Karrenbauer was widely known.
And in her speech, Merkel subtly signaled it: She celebrated the party's electoral victories in Saarland — where the party was guided by Kramp-Karrenbauer — and insisted that the CDU could not go back to what it had been before the turn of the millennium.
"Our CDU is a different one than in 2000, and that is good," she said.
Merz may disagree. Although he had publicly played down his differences with Merkel, and insisted he would be able to work with her, he had long lamented the changes she implemented in a party that had never before been run by a woman or by an east German.
With Kramp-Karrenbauer's victory Friday, Germany is likely — though not certain — to have a second female chancellor.