Jayme Closs: 13-year-old 'only target' of man suspected of kidnapping her and killing her parents
The Independent
11/01/2019
Wisconsin authorities say they believe 13-year-old Jayme Closs was "the only target" of a 21-year-old man suspected of kidnapping her and killing her parents in October.
Barron County Sheriff Chris Fitzgerald identified Jake Thomas Patterson as the man arrested by authorities after a fourth-month search for Jayme.
Watch: Wisconsin man arrested in teen's abduction (Associated Press)
Patterson is charged with two counts of first-degree intentional homicide of Denise Closs, 46, and her husband James, 56, Mr Fitzgerald said in a news conference on Friday. The couple were found shot dead on October 15. Patterson was also charged with kidnapping their daughter from their home in Barron on the same day here parents' bodies were discovered.
Download the Microsoft News app for your Android or iPhone device and get news & live updates on the go.
Mr Fitzgerald said investigators believe the 21-year-old suspect killed Mr and Ms Closs because he wanted to abduct their daughter. The sheriff also said Patterson "took many steps to hide his identity."
The 13-year-old victim was found in Gordon—a remote town 70 miles from her home—87 days after she disappeared when she walked away from a cabin where she was held and asked a woman walking her dog for help, the authorities said. Patterson was arrested based on the description of his vehicle Jayme gave them.
The teen kidnapping victim was described as "unkempt," and allegedly said she was "locked up or hidden," according to people who found her and made the 911 call.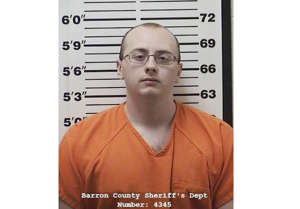 © Associated Press Jake Thomas Patterson

"She didn't express any fear," Kristin Kasinskas told a NBC-affiliate station on Thursday. "Ms Kasinskas, and her husband Peter, were at their home when their neighbour pounded on the door, shouting "This is Jayme Closs! Call 911!"
The search, with the assistance of local law enforcement and the FBI, for Jayme began in October 2018 after Barron County Sheriff's Department received a 911 call and went to her home and found her parents shot dead. The police arrived at their home about four minutes after the 911 call was made with the 13-year-old nowhere to be found. The door was kicked in and no weapon was found at the home.
Immediately after news broke of her disappearance, the authorities received thousands of tips from across the country. None of them were considered credible at the time.
But as for now, Kelly Engelhardt, the surviving teen victim's aunt, is grateful that her niece was found alive.
"I'm shocked," Ms Engelhardt told NBC affiliate KARE. "It's what we've prayed for every single day.