Michael Schumacher is now 'conscious' after undergoing stem-cell therapy at a Paris hospital

Daily Mail
4 days ago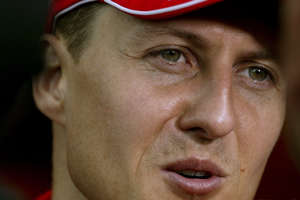 © Getty Michael Schumacher Michael Schumacher is 'conscious' after being admitted to a Paris hospital for stem-cell treatment on Monday, a report claims.
The seven-time Formula One champion was admitted under tight guard Monday to the Georges-Pompidou hospital for transfusions of inflammation-reducing stem cells.
The newspaper said the 50-year-old German, who suffered a near-fatal brain injury in a 2013 skiing accident in the French Alps, was expected to be discharged today.
A nurse told Le Parisien: 'Yes he is in my service ... And I can assure you that he is conscious.' 
Following the accident, Schumacher's condition stabilised after he was placed in a drug-induced coma, from which he later emerged.
© Provided by Associated Newspapers Limited Schumacher pictured alongside his wife Corinna at the ski resort of Madonna di Campiglio Since September 2014, he has received round the clock specialist care at his home in Lausanne, Switzerland, on the banks of Lake Geneva.
© Provided by Associated Newspapers Limited Suchmacher's son Mick was in Chatres, just south of Paris where he attended the funeral of Formula 2 racer Anthoine Hubert, who was killed in a crash at the Belgian Grand Prix Le Parisien, citing sources it did not name, said Schumacher has been treated at least twice previously at the Georges-Pompidou hospital, admitted each time under a false name and treated by a small medical team.
Le Parisien published a photo of a yellow and blue ambulance with Geneva plates that it said drove Schumacher to the hospital on Monday afternoon.
© Provided by Associated Newspapers Limited Schumacher has not be seen in public since suffering the near-fatal head injury while skiing in 2013 Inside, he was taken to a first-floor cardiovascular unit on a gurney with a dark-blue covering that hid his face and body.
The paper said about ten security agents, some equipped with earphones, watched over the patient.
Schumacher's family fiercely protects his privacy. Thick forest around his castle-like home and high surrounding walls provide sanctuary from fan and media intrusion. 
Schumacher won a record 91 Formula One races before retiring in 2012. He was skiing with his son Mick - who now races in F2 - when he fell on December 29, 2013.
He hit the right side of his head on a rock, splitting open his helmet.
Doctors worked frantically to remove blood clots from his brain, but some were left because they were too deeply embedded.
WHO IS THE PIONEERING HEART SURGEON TREATING MICHAEL SCHUMACHER WITH STEM CELLS?
Michael Schumacher was admitted to Pompidou hospital in Paris to be treated by Dr Philippe Menasche.
Dr Menasché is a cardiothoracic surgeon who, with his colleagues, has long been working on using stem cells to repair damaged hearts.
Stem cells are not yet differentiated, meaning they have the potential to develop into many of the different types of cells and tissues in the human body.
Research on them has generated both excitement - that they could repair or replace damaged parts of the body - and controversy, because the most versatile stem cells are taken from embryos.
Dr Menasché and his lab work with a variety of cell therapies to treat heart diseases and injuries.
They first focused on a type of stem cells called skeletal myoblasts.
These stem cells are not as versatile as embryonic stem cells, but have can be taken from a patients own skeletal muscle.
Scientists first started experimenting with transplanting these cells into the heart in 1995, in the hopes that they would help patients with heart disease or in heart failure to grow new, stronger tissue.
Dr Menasché's 2008 study in 2008 was one of the most well-regarded clinical trials of this method - but, ultimately, the procedure did not result in better heart function for the patients.
He has since moved on to a new technique. Dr Menasche now bioengineers tissue and uses it in combination human embryonic stem cells that are primed to become heart tissue, called cardiac progenitors.
In 2018, he published a study demonstrated that these cells could be safely transplanted into patients with failing left heart ventricles.
Dr Menasché's team aims to use their technique to treat patients in end-stage heart failure for whom more traditional treatments have failed - though it is unclear what stage these trials are now in.
MSN UK is committed to Empowering the Planet and taking urgent action to protect our environment. We're supporting Friends of the Earth to help solve the climate crisis - please give generously here or find out more about our campaign here.