National Geographic acknowledges decades-long coverage was racist

The Telegraph
4 days ago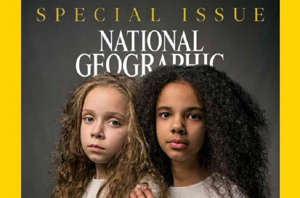 National Geographic has admitted its past reporting on different cultures around the world was racist.
The US magazine acknowledged in an editorial that for decades its "coverage was racist", adding that the only way to rise above its past was to "acknowledge it".
For its upcoming issue, dedicated solely to race and how it "defines, separates, and unites us", the magazine asked a preeminent historian to examine the publication's own history.
Susan Goldberg, the magazine's Editor in Chief, admitted she was left "speechless" by some of the racist coverage, adding: "It hurts to share the appalling stories from the magazine's past."
One shocking example is a story published in 1916 about Australia that featured a photo of two Aboriginal people with the caption: "These savages rank lowest in intelligence of all human beings."
We are kicking off a year-long series of stories about race, starting with our April issue devoted to the topic. We begin by taking a look at ourselves. My essay on @NatGeo's past, and very different present. https://t.co/y4L70VZ8tG via @NatGeoMag

— Susan Goldberg (@susanbgoldberg) March 12, 2018
The magazine also "all but ignored" minority groups in the United States until the 1970s, only showing them as labourers or domestic workers, while it used "every type of cliche" when frequently presenting "natives" abroad as unclothed, happy hunters and noble savages

In 1941, a slavery-era slur was used to describe California cotton workers, while in other  past editions an "excess" of pictures glamorously depicting Pacific-island women were also uncovered.
A 1962 issue ran photos of "civilised" Westerners showing "uncivilised" natives from Timor island in south-east Asia new technology creating a "us-and-them dichotomy", said historian John Edwin Mason.
"It's hard for an individual—or a country—to evolve past discomfort if the source of the anxiety is only discussed in hushed tones." https://t.co/9forcyt4ae

— National Geographic (@NatGeoMag) March 12, 2018
Professor Mason, an expert on the history of Africa at the University of Virginia, said the National Geographic, who excluded African Americans from becoming members through the 1940s, did little to fight stereotypes ingrained in white American culture

"Americans got ideas about the world from Tarzan movies and crude racist caricatures," he said.
"Segregation was the way it was. National Geographic wasn't teaching as much as reinforcing messages they already received and doing so in a magazine that had tremendous authority.
"National Geographic comes into existence at the height of colonialism, and the world was divided into the colonisers and the colonised. That was a colour line, and National Geographic was reflecting that view of the world."
Ms Goldberg urged readers to "confront today's shameful use of racism as a political strategy and prove we are better than this".
The cover of its latest issue features "one in a million" 11-year-old twins Marcia and Millie Biggs who have different skin colours.
Our April issue is devoted to exploring race—how it defines, separates and unites us. Read the story behind the cover: https://t.co/PPTVg3UpM8 pic.twitter.com/5kunxfDrHt

— National Geographic (@NatGeo) March 12, 2018