Paris attack: police officer and suspect shot dead on Champs Elysees in attack claimed by Islamic State

The Telegraph
21/04/2017
A policeman was shot dead on the Champs-Élysées in Paris on Thursday night in an apparent Isil-inspired terror attack.

The shooting, in which the gunman was also killed, was carried out by a man who was under preliminary investigation for terrorism but "let go".
The attack raised questions over how yet another Islamist extremist known to police was able to bring terror to the heart of the French capital.
The shooting came just three days before the first round of the country's presidential election, and François Fillon, the conservative candidate, last night called for election campaigning to be suspended.
Security will be heightened across the country in the run-up to Sunday's election.
The Islamic State of Iraq and the Levant identified the attacker as one of its soldiers, naming him as Abu Yousif, a Belgian. Police said last night the man had been identified, but his name would not be revealed until investigators determined whether he had accomplices, Reuters reported.
It was highly unusual for Isil to both take responsibility and name the perpetrator so soon after an attack.
The gunman had recently been detained for questioning in a police station in Meaux, outside Paris, after "informants" had indicated that he was "seeking to obtain weapons to kill policemen", according to reports.
Paris attack: police officer and suspect shot dead on Champs Elysees in attack claimed by Islamic State But due to a lack of evidence, anti-terror prosecutors "let him go".
The 39-year-old gunman was known by intelligence services for radicalisation and had targeted police 16 years ago in a car chase, when he opened fire on officers, according to reports.
During questioning, he managed to get hold of a police weapon and fire five times. The policeman survived, but the man was sentence to several years in prison for the attack.
He opened fire on a police car parked on the Champs-Élysées, hitting at least two officers. The man's gun, thought to have been a Kalashnikov, was described as a "war weapon".
The man was then shot dead as he fled and police later carried out searches at an address east of Paris.
French prosecutors said they had opened a counterterrorism investigation, while a French interior ministry spokesman said there may be more than one attacker and the police had been "deliberately targeted". Reuters reported that an arrest warrant had been issued for a second suspect who had arrived in Paris from Belgium. The terrorists who attacked Paris in Nov 2015 travelled from Belgium.
François Hollande scheduled an emergency meeting following the attack, which came after two men were arrested earlier this week in Marseille who were thought to be in the final stages of preparing "several" attacks.
The French president said police were convinced that the attack was "terrorist in nature". "A national tribute will be paid to this policeman who was killed in such a cowardly way," he said.
Both Mr Fillon and Marine Le Pen, the Front National presidential candidate, confirmed last night that they were cancelling campaign trips today.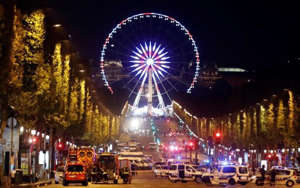 The Champs Elysee Avenue is blocked during ongoing police operations Mr Fillon said: "The fight against terrorism must be the absolute priority of the next French president."
Donald Trump, the US president,said: "Our condolences from the people of the United States to the people of Paris. It looks like another terrorist attack. What can you say? It never ends."
Initial reports from the French police union said that the officer was killed while sitting in a car at a red light.
One eye-witness said the attacker jumped out of a car and began shooting "with a Kalashnikov", hitting the officers. Police helicopters were seen flying low, apparently part of a follow-up operation, as authorities threw a massive security cordon around the area.
Reports said the first shots were heard from inside or outside the branch of Marks & Spencer in one of the world's most renowned shopping districts.

France's presidential election has been marked by the resurgence of Ms Le Pen, who has campaigned on the potential security threat posed by immigration. There was immediate speculation on social media that the attack would benefit Ms Le Pen, particularly if it was confirmed to have an Islamist connection or motive.
However, analysts noted that in the past populist politicians have not received a polling bounce ahead following terror attacks, including the attack on the Bataclan theatre in 2015 that led to the imposition of a state of emergency.
During the televised debate Ms Le Pen repeated her demands to take France out of the Schengen free movement zone and introduce tighter controls. She said: "The influx of migrants is in front of us. Control our borders, otherwise we won't stop this wave!"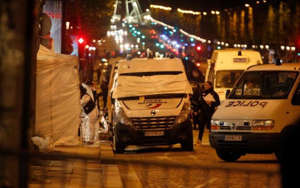 © Associated Press Forensic experts and police officers examine evidence from a police van on the Champs Elysees The fact the gunman was known to police will raise further questions about how terrorists in France have been able to evade capture. All three of the terrorists in the January 2015 Charlie Hebdo attacks – Cherif and Said Kouachi, and Amedy Coulibaly – were known to police.

The 2016 Nice attack, in which 86 people were killed when a cargo truck was driven into crowds of people celebrating Bastille Day, was also carried out by an Islamist extremist known to police. Mohamed Lahouaiej Bouhlel received a six-month suspended prison sentence for attacking a person involved in a road accident with a piece of wood and he was facing allegations of domestic abuse, theft and "use of weapons".
Cyril, 40, a witness to last night's attack in Paris, said: "I was on the corner beside Marks & Spencer and Zara, waiting in my car for a friend, 10 or 15 metres from a police van. I saw a man all in black approaching the van as if he was asking for information, and he took out a Kalashnikov and fired, with his right hand."
He told The Daily Telegraph: "I started my car and pushed three or four other cars so I could do a U-turn. I'm totally certain he meant to kill the police. He was wearing a big black quilted coat and had hidden the gun under it."

Another witness, Walid, came out of a café on the Champs-Élysées and saw people running. "I asked what was wrong and they said there was shooting. I was 50 or 100 metres from the gunman and I started to run with them. Quite quickly we saw a helicopter over the area. Then police cars came and blocked off the area. There were a lot of sirens and flashing lights…. No one knew if it was over or if more attacks were happening."