Robot Accidentally Hospitalises 24 Amazon Workers After It Sprays Them With Bear Repellent

HuffPost UK
06/12/2018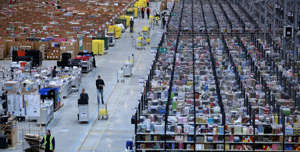 © Getty Inside an Amazon warehouse (file photo) A special message from MSN:

While Christmas is a time of joy for most of us, that's not the case for the UK's most vulnerable children and young people. We've partnered with giving platform Benevity to raise funds for two charities - the NSPCC and The Children's Society – to try to help change that. You can help make a difference - please donate now.
A robot hospitalised 24 Amazon workers after it accidentally tore a can of bear repellent spray in a warehouse in New Jersey on Wednesday, officials said.
© Bloomberg via Getty Images The workers were treated at five different hospitals in Robbinsville, New Jersey. One remains in a critical condition and an additional 30 workers were treated at the scene, according to ABC News.
Bear repellent is made with capsaicin, which is also present in pepper spray.  When it comes into contact with humans it can lead to difficulties breathing and cause severe pain, especially if it gets in the eyes or mouth.
The warehouse, which is approximately 1.3 million square feet, was given the all clear by Wednesday evening.
Robbinsville Township Public Information Officer John Nalbone said the official investigation had found "an automated machine accidentally punctured a 9-ounce bear repellent can, releasing concentrated capsaicin."
Watch: Amazon's fleet of automated warehouse robots (Independent)
According to Nalbone, there was no threat to residents in the area and the fumes were confined to the fulfilment centre's third floor south wing.
A spokeswoman for Amazon told ABC News: "Today at our Robbinsville fulfilment centre, a damaged aerosol can dispensed strong fumes in a contained area of the facility. The safety of our employees is our top priority, and as such, all employees in that area have been relocated to safe place and employees experiencing symptoms are being treated onsite.
"As a precaution, some employees have been transported to local hospitals for evaluation and treatment.
"All of the impacted employees have been or are expected to be released from hospital within the next 24 hours."
Amazon employees are not unionised, but the Retail, Wholesale and Department Store Union issued a statement highlighting the danger that robots can pose to human workers.
Union president Stuart Appelbaum said in a statement: "Amazon's automated robots put humans in life-threatening danger today, the effects of which could be catastrophic and the long-term effects for 80 plus workers are unknown." 
"The richest company in the world cannot continue to be let off the hook for putting hard working people's lives at risk.
"Our union will not back down until Amazon is held accountable for these and so many more dangerous labour practices."