Russia's Zapad Military Drills Seek to Send a Message to the World

Time
5 days ago
© AP Belarusian army vehicles drive preparing for war games at an undisclosed location in Belarus on Sept. 11, 2017. Russia and Belarus are holding a massive war games, Zapad 2017, that due to start on Thursday near the borders of Poland, Estonia, Latvia and Lithuania. The Zapad drills, Russia's premier military exercises, have begun. The primary goal in these quadrennial war games is to prepare Russian troops for a major war – by some European estimates, as many as 100,000 could take part in the manoeuvres from Sept. 14-20 – with their "presumed opponents" being the U.S. and its allies. But no less important is the message these games seek to send to the world: the Russian military, nearly three decades after the fall of the Soviet Union, is once again a force to be feared.
Russia's neighbors have gotten the message, and some fear the Russians may have another, more nefarious goal in mind with this year's Zapad (Russian for "West"). Weeks before the exercises began, Poland warned that they could be used as cover for a Russian invasion. The small Baltic nation of Lithuania, a U.S. ally and NATO member, announced plans to build a fence to stop Russian troops from wandering or sneaking into its territory during the drills. Lieutenant General Ben Hodges, the commander of U.S. Army forces in Europe, summed up the concerns to Reuters in July: "People are worried this is a Trojan horse."
Video: Russia scoffs at claims of 100K troops in war games (Provided by Wochit News)
That analogy seems somewhat strained. The Russians, unlike the Trojans, would not have the element of surprise in trying to breach their opponents' defenses during the Zapad drills. The U.S. and European forces have intensified their patrols of the region where the games will be held, and after some tense negotiations, Russia allowed several observers from the NATO alliance to monitor the exercises.
But that gesture of transparency has not done much to calm Western concerns. Usually held every four years along the Russian borders with NATO and the European Union, Zapad tends to include a simulated nuclear strike against a European nation. In 2009 the hypothetical target was Poland; in 2013 it was Sweden. And depending on how aggressive a signal Russia wants to send, it could choose to forgo the nuclear part of the exercises with this year's target: the fictional country of Veishnoriya, supposedly backed by the West and in coalition with two other fake nations of Lubeniya and Vesbasriya. International observers suggest that the invented countries are proxies for the Baltic States and Poland.
Another signal that will interest NATO commanders is the size of the force Russia puts in the field. Moscow claims that it will be relatively small: about 5,500 Russian personnel and another 7,200 from its ally Belarus, as well as roughly 70 aircraft, 250 tanks, 200 artillery systems and 10 naval ships. By comparison, the drills that NATO held in Eastern Europe in July involved about 25,000 soldiers.
Those numbers are still a fraction of what such drills involved during the Cold War. According to NATO estimates, Soviet war games in Eastern Europe included as many as 150,000 troops during their peak in 1981. The U.S. had roughly twice that many stationed in the region at the time.
Slideshow: Things you should know about Vladimir Putin (Provided by GES)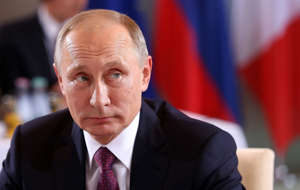 21 things you should know about Vladimir Putin But both sides are now creeping back toward those levels. In response to the Russianannexation of Crimea in 2014, the U.S. and its NATO allies agreed to station several thousand troops near Russia's border on a rotating basis, mostly to reassure Poland and the Baltic states. Russia responded by stationing more strategic missiles and other forces in Kaliningrad, the Russian exclave on the Baltic Sea where many of the Zapad drills will be held.

Still, the country with the most to fear from the exercises might be Russia's partner in the drills: Belarus. Since the two nations split after the break up of the Soviet Union, Belarus has struggled to maintain its sovereignty and independence in Russia's shadow, and some Western observers have warned that the Russian troops who come to Belarus for the Zapad games may wind up occupying it. "The great concern is they're not going to leave," General Tony Thomas, the head of the U.S. Special Operations Command, told a security conference in July, adding, "That's not paranoia." NATO's chief Jens Stoltenberg told the BBC that Russia has a history of using "big military exercises as a disguise or a precursor for aggressive military actions against their neighbors."
It would seem a bit paranoid, however, for NATO to expect a Russian attack during these maneuvers. Compared to the U.S, Russia is still a military underdog, and the fact that Belarus is its only partner in these exercises goes to show how Moscow's network of alliances has withered since Soviet times. Much like Russia's broader military strategy, its goal during the Zapad drills is to project more power than the Russian armed forces can actually muster. And judging by the level of alarm in Europe over Russia's latest round of war games, this tactic of intimidation appears to be working just fine.