She wanted to study at Hebrew University, but Israel is blocking her

PRI
12/10/2018
© Amir Cohen/Reuters American student Lara Alqasem, 22, appears at the district court in Tel Aviv, Israel October 11, 2018. She wants to study at Hebrew University. But Israeli authorities are questioning her politics. An American student with Palestinian roots is fighting for the right to participate in a graduate program at Hebrew University in Jerusalem. 
Lara Alqasem, 22, was accepted to a master's program. She got a visa at the Israeli consulate in Miami. But when she arrived at the airport in Tel Aviv last week, Israeli authorities refused to allow her to enter the country.
Israel put a law in place last year that allows the government to ban entry to foreign activists who support BDS, the campaign calling for an international boycott, divestment, and sanctions against the Jewish State. BDS activists say they want to pressure Israel to promote Palestinian independence. But the Israeli government sees the movement as an anti-Semitic campaign to delegitimize the country.
When Alqasem was at the University of Florida, she served as president of a group called "Students for Justice in Palestine." For Israel's minister of strategic affairs, Gilad Erdan, that's a smoking gun of sorts. Erdan says he will reconsider letting Alqasem into Israel if she apologizes for her activism and renounces her support for BDS. 
So far, she refuses.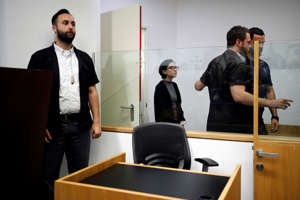 © REUTERS/Amir Cohen U.S. student Lara Alqasem (C) enters the courtroom before the start of a hearing in her case at the district court in Tel Aviv, Israel October 11, 2018. REUTERS/Amir Cohen Alqasem appeared in Tel Aviv district court on Thursday morning, wearing a long black cardigan, gray turtleneck, and black plastic glasses. She did not say a word.

One of Alqasem's lawyers, Yotam Ben Hillel, spoke in court today, explaining that she left the student activist group a year and a half ago. And, in any case, the group only has eight members. Hillel said Alqasem never called publicly for a boycott of Israel, and that Israeli officials are relying on Facebook and a dossier from a dodgy anti-Palestinian group to make their case against this American student. 
"Pick your hands up from the keyboard and your heads from the screens," Hillel said in court. "How is it possible that a 19- or 20-year-old in college was a central boycott activist?"
State's attorney Yossi Zadok painted a very different picture of Alqasem. He described her as a committed BDS activist who demonstrated against Israel and in support of a terrorist. Zadok also pointed out that Alqasem deleted her social media accounts before she arrived in Israel, suggesting that this is a common tactic among anti-Israeli agitators.
"We're looking at actions, we have clear criteria and we believe Ms. Alqasem meets those criteria, based on her action and the actions of the organization of which she was a senior leader over several years," said Asher Fredman, an advisor with Israel's strategic affairs ministry.
But another of Alqasem's attorneys, Leora Bechor, said her client will not apologize.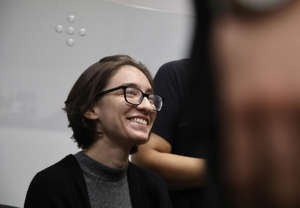 © Mostafa Alkharouf /Anadolu Agency/Getty Images TEL AVIV, ISRAEL - OCTOBER 11: 22-year-old U.S. citizen Lara Alqasem, who has been held by Israeli authorities for a week appears in court in Tel Aviv, Israel on October 11, 2018. Lara Alqasem has been in Israeli custody since arriving at Ben Gurion International Airport last Tuesday with a valid student visa hoping to study law, human rights and freedom of travel at Hebrew University in Jerusalem. Israeli officials are denying Alqasem entry based on allegations that she supported the Boycott, Divestment and Sanctions (BDS) movement, which urges businesses, educational institutions and celebrities to cut ties with Israel. (Photo by Mostafa Alkharouf /Anadolu Agency/Getty Images) "The fact that Erdan is asking that of her, he's asking to penalize her thoughts, and to humiliate her, and to claim that BDS is illegitimate," Bechor said. 

Alqasem planned to study at Hebrew University, which has itself been targeted by BDS activists. But the university is supporting Alqasem's petition. Pepi Yekireveich, a legal advisor at Hebrew University, asked the judge to allow this American student to study in Israel, where she will see for herself it this is a democratic state, not an apartheid state.
"This is just the person who will improve Israel's reputation," Yekirevich said.
The Israel district court judge did not give a ruling today. 
Alqasem left the room, and she will return to detention at a facility near Tel Aviv airport. The US Embassy says it is providing consular assistance including welfare visits, according to an official there. 
Israeli lawmaker Mossi Raz from the left-leaning Meretz Party said he and two colleagues visited Alqasem. Raz said her situation is unbearable and she must be allowed to stay and study in Israel.
"I am afraid that the pressure the right wing is [putting on the system], pressure the court, again and again, make some problems to the court to decide and make a just decision," Raz said.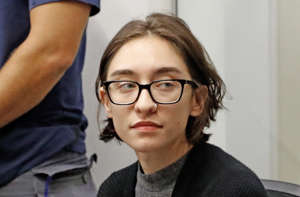 © JACK GUEZ/AFP/Getty Images US student Lara Alqasem sits for a hearing at the Tel Aviv district Court on October 11, 2018. - The student was refused entry for alleged support of a pro-Palestinian boycott of goods from Israel has chosen to stay and fight the ban in court. Immigration authority spokeswoman Sabine Haddad told AFP that Lara was being held at an immigration facility but was not under arrest. (Photo by JACK GUEZ / AFP) (Photo credit should read JACK GUEZ/AFP/Getty Images) One man came to the trial on Thursday as a spectator. Aharon Gottlieb wore a suit and sat in the corner, with a blue and white Israeli flag draped around his shoulders. Aharon Gottlieb is a Brazilian Jew who just moved to Israel — and as a Jewish person, he is entitled to citizenship under the law of return.

"We need to make sure that our enemies don't come into the country," Gottlieb said. 
That is a view held by many Israelis. Across the street from the court, Malka Weinstein sipped a cappuccino with friends.
"All the Western countries don't let such people into their countries," Weinstein said. "If you speak against this country, don't enter there. Go somewhere you believe in, not a place that you think is bad," Weinstein said.  "It's not Israel that's so racist or against, countries should defend themselves." Classes at Hebrew University begin next week. 
The program that Alqasem was accepted to is called, "Human Rights and Transitional Justice." A political cartoon in the liberal Israeli newspaper Haaretz today pictured Alqasem sitting in her detention cell. A guard is saying to her, "This is the practical part of the course."