Sri Lanka explosions LIVE updates: Easter Sunday bombings at churches and hotels leave at least 207 dead

Evening Standard
21/04/2019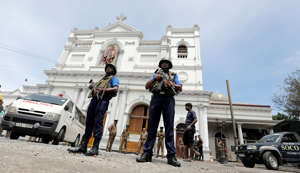 At least 207 people have been killed in a series of Easter Sunday explosions targeting churches and hotels in Sri Lanka.
A government official said 207 people died and 450 were left injured after eight explosions rocked three churches, four hotels and a housing scheme.
About 35 tourists, including three Britons and two people holding joint US and British citizenship, Americans and Dutch citizens, are believed to be among the dead and the Foreign Office said it was urgently seeking information from local authorities.
The attacks mark the worst bout of violence in the South Asian country since its civil war ended a decade ago.
Seven suspects have now been arrested following the blasts, Sri Lanka's defence ministry said.
Follow all the latest updates below...