This Old Communist Town Shows Why Italy's Vote Is a Cliffhanger

Bloomberg
14/02/2018
© Bloomberg Giuseppe Chiaramonte (Bloomberg) -- Strolling through the Tuscan town of Lamporecchio, former Mayor Giuseppe Chiaramonte suddenly noticed something missing. The street sign for Via Gramsci, named after the founder of the communist party in a place that was the stronghold of the Italian left, had disappeared.

It was removed from the wall of a building during restoration and "nobody bothered to put it back," Chiaramonte, 62, explained after a quick check with the town hall. "To me that's a sign of the times," he said.
If Italy ever needed a political sign post, it's now. Elections will take place on March 4 and the race to form the next government is wide open.
An hour's drive from Florence, Lamporecchio epitomizes how an increasingly apathetic electorate is split over who to vote for at a critical point for the direction of the country, and indeed Europe's continuing battle with insurgent political forces.
The town's 7,500 population considers itself a good bellwether for where Italy is headed. If a political trend has reached here, then it means the whole country is changing, according to executive chef Marco Cassai.
© Bloomberg Marco Cassai "People here tend to be conservative," said Rome-born Cassai, 35, as he checked last-minute preparations at the Michelin-starred Atman restaurant, housed in the 17th century Villa Rospigliosi. "You still feel the wind blowing, but you aren't in the eye of the storm like in the big cities."
What's clear is that the governing Democratic Party of Prime Minister Paolo Gentiloni is losing core support in the region and that's good news for former premier Silvio Berlusconi, whose political alliance is leading nationwide opinion polls.

Italy's electoral system gives broader coalitions an advantage and Berlusconi's bloc would get 36 percent of the vote based on an aggregate of January polls compiled by Bloomberg.
The anti-establishment Five Star Movement would be the biggest single party, with 28 percent of the vote, but has refused to govern with anyone else. The Democratic Party is trailing on 23 percent and losing ground to smaller far-left parties.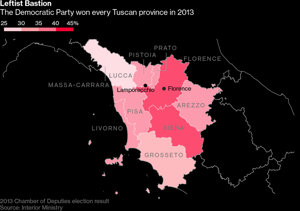 Voting patterns Many of Lamporecchio's voters will either stay away, go back to far-left groups or favor the Democratic Party's main opponents, according to Chiaramonte.
In regions like Tuscany "a lower-than-expected turnout and competition by other left-wing forces could take away key votes needed by the Democratic Party to win some constituencies," said Mario Caciagli, professor of political science at the University of Florence.
All over Tuscany, the party is losing pieces of its political jigsaw.
In the port of Livorno, where the Italian Communist party was founded in 1921, the mayor is now from the anti-establishment Five Star Movement, as is the mayor of Carrara further to the north. In Pistoia, the capital of the province where Lamporecchio is located, citizens elected Alessandro Tomasi as mayor. He's from the far-right Brothers of Italy party, a component of Berlusconi's group.
Tomasi, 38, said the government has done nothing to address the security and immigration issues that have dominated politics from Brexit Britain to France, Germany, the Netherlands and eastern Europe the past two years.
© Bloomberg Alessandro Tomasi
"They cannot be dismissed as just a populist thing since they affect everyone, especially the weakest and poorest," he said at his office in Pistoia's town hall. "The government's policies fell short of the goal of addressing people's problems and they will pay a price on election day."
Economically, Lamporecchio has been doing pretty well in the face of Italy's recent recession. It benefits from local companies including the many producers of brigidini, the circular aniseed-flavored wafers that are typical of Tuscany.
Of course, not everyone has been immune to Italy's travails. About 40 families currently reach out for financial help and advice, said Selma Ferrali, a retired public servant who now leads the office for social affairs of the local Catholic Diocese.
"And that is just a fraction, many are ashamed to come to us as they don't want to disclose that they lost their job or are unable to pay for their rent," she said. After voting for many years for the Democratic Party, Ferrali says she feels disappointed by its current leadership.
© Bloomberg Selma Ferrali Michela Rinati, whose family firm in Lamporecchio's industrial area produces brigidini, complains that the government hasn't done enough for small businesses and that might lead people to vote differently. She wants the next government to cut red tape, taxes and social contributions for small companies, allowing them to hire more workers.
"Given the structure of Italy's productive system which is mainly made up of artisans or small companies," said Rinati. "Some changes at a political level are needed."
In the past that would mean embracing the communists. For most of the 20th century Lamporecchio was known in Italy as western Europe's "reddest municipality" due to its overwhelming support.
Roberta Carli, who runs a pastry shop with her sister in the town's main square, remembers the crowds that turned out in April 1981 both in the square and along Via Gramsci for a speech by Italian communist leader Enrico Berlinguer. "I climbed the stairs to reach the top floor from where you could see that everyone from Lamporecchio was attending the rally."
After the fall of the Soviet Union, the town continued to back groups on the left. It then voted for the Democratic Party in 2013 elections.
© Bloomberg Caterina Bini, a lawmaker for the Democratic Party and candidate for the Pistoia and Prato constituency. Caterina Bini is running for re-election with the Democratic Party in a constituency that includes Lamporecchio and the bordering provinces of Pistoia and Prato. While on the campaign trail in Prato, she said no party of any stripe can expect support based on how people used to vote.
"I am absolutely convinced that you can't take any electoral results for granted in Italy these days, in any constituencies, not even in areas like mine that have always had a marked political tradition," said Bini, 42.
As he walked toward the now unmarked Via Gramsci through the stalls of the weekly open-air market, former mayor Chiaramonte put it down to the political wind blowing across Europe: people feel neglected by leaders.
"After taking power and becoming part of the establishment," he said. "They spent too little time around people to be able to understand their real problems."
--With assistance from Hayley Warren and Patricia Suzara