Turkish investigators expand search for missing journalist to forest, farm outside Istanbul

The Washington Post
18/10/2018
Video by The Associated Press
ISTANBUL —Turkish investigators have expanded their probes into the case of missing Saudi writer Jamal Khashoggi to include at least two wooded areas outside Istanbul, local news agencies and a Turkish official said Thursday.
Police investigating the disappearance of Khashoggi — who they believe was killed by Saudi agents inside the country's consulate in Istanbul — will review security footage from the entrances to Istanbul's Belgrad Forest and also expect to search farmland in Yalova province about 60 miles away, Turkish media reported.
The latest police moves significantly expand the map of the investigation and suggest possible new leads emerging.
That could put more pressure on Saudi leaders, who deny having any knowledge of Khashoggi's fate but promised Secretary of State Mike Pompeo to conduct their own investigation.
It is uncertain, however, if a self-run inquest by the Saudis could quell international outrage of the disappearance of Khashoggi, a Saudi citizen and Washington Post contributing columnist.
Many Western political and business leaders have bailed out on a major Saudi investment forum next week, and President Trump has faced sharp criticism from even his own Republican allies after appearing to give Saudi Arabia some breathing room.
Pompeo — who held talks earlier this week in Riyadh and the Turkish capital, Ankara — is scheduled to met Thursday with Trump.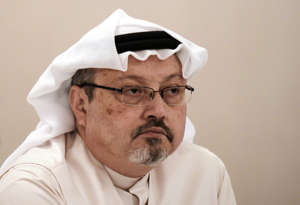 Slideshow by photo services
Pompeo said Wednesday that Saudi Arabia should be given "space" to issue its own findings. Trump, meanwhile, said any possible U.S. response to Khashoggi's disappearances must take into account the security and defense ties with the kingdom.
A Turkish official confirmed that investigators had broadened their search for Khashoggi's body to "gardens" around the Istanbul area. The official spoke on the condition of anonymity because he was not authorized to discuss details of the case.
Forensic teams also conducted searches of the Saudi consulate in Istanbul and the residence of the consul general, Mohammed al-Otaibi.
Turkish investigators believe that Khashoggi was killed by a 15-man Saudi hit team soon after he entered the consulate for an administrative errand on Oct. 2 and was subsequently dismembered.
As early as a week after Khashoggi was last seen in public, Turkish authorities were already investigating the idea that the Saudi team drove around Istanbul looking for parks and open areas to possibly dispose of the body, a Turkish security official said last week.
On Thursday, investigators departed the consulate following a second search of the consulate grounds, Turkey's private DHA news agency reported. Turkey has not formally released any evidence to support claims a team of Saudi agents killed Khashoggi.
Trump on Wednesday urged the Turkish government to share what it says is an audio recording of Khashoggi's killing.
"We have asked for [audio and video] if it exists," Trump told reporters hours after Pompeo departed Turkey.
State Department spokeswoman Heather Nauert said Pompeo did not listen to any audio recording while in Ankara. it was unclear whether Turkey offered Pompeo a chance to listen to the recording Turkish officials say they have.
Kareem Fahim and Zeynep Karatas in Istanbul and Brian Murphy in Washington contributed to this report.