Twelve killed after gunman opens fire in California bar

Sky News
08/11/2018
Video: 'I turned and saw him shoot' (Sky)
Twelve people including a police officer have been killed after a gunman opened fire inside a country and western bar in California.
A sheriff's deputy was killed by the gunman after responding to the shooting at the student-filled Borderline Bar and Grill in Thousand Oaks.
Police said 28-year-old suspect Ian David Long died in the bar and was found "down with a gunshot wound" when officers entered the building.
_____________________________________________________________________

More on this story
LIVE: Latest updates as gunman identified as former marine (Evening Standard)
_____________________________________________________________________
© AP People comfort each other as they stand near the scene at Thousand Oaks, California, where a gunman opened fire Wednesday inside a country dance bar
Ventura County sheriff Geoff Dean said it was "too early to say" if the gunman took his own life.
"We don't know anything about the suspect yet. I have no idea who he is," he said.
He said the gunman opened fire with a handgun at around 11.20pm.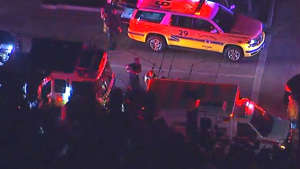 "There were people hiding in restrooms, there were people hiding in attics.
"It's a horrific scene in there. There is blood everywhere".
He said that the loss of Sergeant Ron Helus - who had served 29 years with the force and was due to retire - was "horrific and terrible".
Gallery: Shooting at Californian bar (Photos)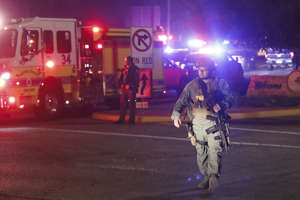 A number of victims with serious injuries were rescued from the bar and taken to local hospitals.
At least 30 shots were fired by the gunman, sending hundreds of panicking people toward the exits with some breaking windows to escape.
The bar had been hosting a night for university students, with country two-step lessons being offered to customers.
© AP Witnesses gather outside the Borderline bar and grill after a shooter opened fire Witnesses said the gunman fired several shots from a handgun before throwing smoke bombs.
People screamed and fled to all corners of the room, while a few people threw barstools through the windows and helped dozens escape.
A trail of blood was visible on the street at the entrance of the venue.
© AP Witnesses to the shooting huddle together as they leave the scene President Donald Trump said that "great bravery" had been shown by police following the attack.
Offering his condolences in a tweet, he said he had been "fully briefed on the terrible shooting." He said: "God bless all of the victims and families of the victims. Thank you to Law Enforcement."
One of those inside the bar at the time of the attack was Tayler Whitler, who said she saw a man enter with his face partly covered by something resembling a ski mask
© AP A young woman speaks to an FBI agent after a shooting at a bar in California Ms Whitler, 19, said he opened fire on a person working on the door, then began to shoot people at random.
"It was really, really, really shocking," she told KABC-TV.
"It looked like he knew what he was doing." The gunman was believed to have been confined inside the bar before being shot dead.
Video: Police block streets after California shooting (Sky)
Police told how victims ran to a nearby petrol station to get help shortly after the gunman opened fire.
© AP People comforting each other after a shooting in a California bar Nick Steinwender, student body president at nearby California Lutheran University, rushed to the scene when he heard about the shooting as he knew friends and fellow students were inside.
KABC-TV interview with eyewitness whose stepson was inside Borderline bar.

KABC live coverage: https://t.co/KRlguIpI2p pic.twitter.com/euvas754Ym

— Matthew Keys (@MatthewKeysLive) November 8, 2018
"It was chaos, people jumping out of windows, people hopping over gates to get out," he told KABC-TV.
He said he heard from people inside that they were hiding in bathrooms and the attic of the bar.