UK braced for cyber revenge: Fears of retaliation from Putin over Syria strikes as Prime Minister insists action was in our 'national interest'

Daily Mail
16/04/2018
Related: Putin Warns of International 'Crisis' After U.S.-led Attack on Syria (Wochit News)
Britain was braced for a Russian cyber attack last night as officials warned of swift retaliation for the military strikes on Syria.
Intelligence officers at GCHQ and the Ministry of Defence are on standby to hit back if the Kremlin wages cyber warfare.
Foreign Secretary Boris Johnson acknowledged the threat yesterday, saying the UK had to take 'every possible precaution'.
It is feared vital transport systems, water supplies, gas networks, banks, hospitals and even air traffic control could be hacked by Russia in response to the assault on Bashar al-Assad's chemical weapons facilities.
Intelligence sources also fear the retaliation could involve the online release of so-called 'kompromat' – compromising information on MPs or other public figures.
Last night, the Pentagon said there was a 2,000 per cent increase in the number of Russian trolls spreading Kremlin propaganda in the hours after the air strikes. As the fallout from the military action intensified: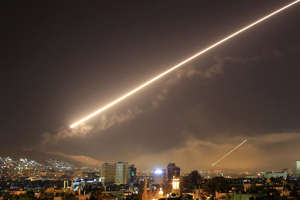 The Syria crisis will dominate the return of Parliament today, with Mrs May facing the prospect of MPs voting against her decision to join Friday night's US-led strikes to punish the Assad regime for the use of chemical weapons in Douma.
In a robust defence of her actions, the Prime Minister will deliver a statement to MPs insisting that Britain had to strike Syria 'in our national interest'.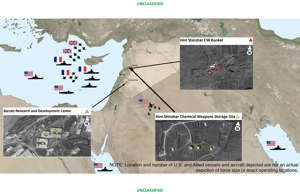 And she will invoke the Salisbury poisonings, saying that military action was essential to help deter any future use of chemical weapons 'on the streets of the UK'.
On Saturday, Russia warned of 'consequences' after the air strikes.
Moscow has already launched repeated online assaults against the UK and intelligence chiefs fear they have the capability to hack into certain critical systems. Speaking on the BBC's Andrew Marr show, Mr Johnson said: 'I think we have to take every possible precaution.
'When you look at what Russia has done, not just in this country, in Salisbury, attacks on TV stations, on the democratic processes, on critical national infrastructure – of course we have to be very, very cautious indeed.' A National Cyber Security Centre spokesman added: 'We are always vigilant to attacks wherever they come from and we have a full spectrum of capabilities to draw on if required.'
Intelligence experts accept that the most likely response from Russia will be through covert cyber warfare. This would be on top of an avalanche of fake news planted by Moscow-run online trolls.
Last week, Ciaran Martin, director of the cyber security centre, warned that Russia had already repeatedly 'hit' the UK's critical infrastructure. This includes vital systems such as water supplies, electricity and gas networks, hospitals, banks and transport.
He said Kremlin attacks on computer networks were 'part of a wider campaign to destabilise' the UK.
'Our critical infrastructure gets hit frequently by Russia and it is not always clear for what purpose,' he said.
'As a government as a whole we want to counter hostile Russian intent towards the democratic system and we have got all sorts of different parts of government working on that.'
Whitehall sources said yesterday Russia was carrying out cyber attacks against the UK 'all the time'. One added: 'What is clear, both offensive and defence cyber capabilities are now a reality.'
And one security source told The Sunday Times: 'We know what's in the Russian playbook – kompromat-type material – we're all prepared for that.'
In the hours after the strikes, Moscow's ambassador to the US, Anatoly Antonov, said: 'The worst apprehensions have come true. Our warnings have been left unheard. A pre-designed scenario is being implemented. Again, we are being threatened. We warned that such actions will not be left without consequences.
'All responsibility for them rests with Washington, London and Paris. Insulting the president of Russia is unacceptable and inadmissible.' Putin condemned the strikes as an 'act of aggression against a sovereign state' and accused the US and its allies of violating the 'norms and principles of international law'. Putin even accused America of having 'staged chemical attack against civilians' as a 'pretext' for the attack.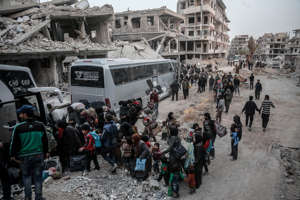 One Russian politician even compared Mr Trump to Adolf Hitler. Alexander Sherin said he 'can be called Adolf Hitler No 2 of our time – because, you see, he even chose the same time [of night] that Hitler chose to attack the Soviet Union'.
A Russian resolution at the UN Security Council condemning the air strikes was soundly defeated on Saturday night. Moscow gained support from only two countries, China and Bolivia. Four council members – Ethiopia, Kazakhstan, Peru and Equatorial Guinea – abstained, while the remaining eight members voted against.
At the same time, Mrs May has faced considerable criticism for not recalling Parliament to gain approval for joining the US-led action.
Tory MPs returning from recess this week have been told they have to be in the Commons today and tomorrow in case there is a vote on her handling of the Syria crisis.
Last night, however, Downing Street officials said they believed a Commons vote was unlikely to take place – although they did not rule out the possibility that Opposition parties could force one later in the week.
Mrs May will tell MPs: 'Let me be absolutely clear. We have acted because it is in our national interest to do so.'