US Brushes Off Pyongyang's Tough Talk, Proceeds With Planning for Summit

The Wall Street Journal.
16/05/2018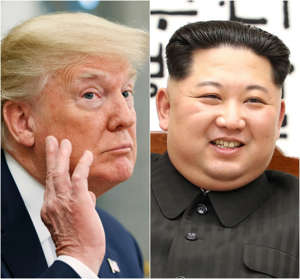 President Donald Trump and North Korean leader Kim Jong Un President Donald Trump is still planning to hold a summit meeting in Singapore with North Korean leader Kim Jong Un, U.S. officials said, brushing off sharp comments by one of Pyongyang's senior diplomats that caught the Trump administration by surprise.
While proceeding apace with summit plans, Mr. Trump and his foreign-policy team on Wednesday also refrained from firing back with tough words of their own. Mr. Trump previously has called North Korean leader Kim Jong Un "rocket man" and warned of American "fire and fury."
Secretary of State Mike Pompeo spoke to his South Korean counterpart as part of a broader effort to coordinate for the June 12 summit, and called Singapore's foreign minister to thank his government for agreeing to host the summit, the State Department said.
"This is something we fully expected," White House press secretary Sarah Sanders said of the North Korean warning. "The president is very used to and ready for tough negotiations."
Related: China pressures North Korea to hold summit (Fox News)
The administration's uncharacteristically subdued response followed North Korea's angry denunciation of the Max Thunder air exercise in South Korea, which involve F-22s, some of the most-advanced U.S. fighters.
Most significant were the comments of Kim Kye Gwan, North Korea's first vice minister at the Ministry of Foreign Affairs, who objected to U.S. assertions that Pyongyang should quickly dismantle its nuclear arsenal in return for economic benefits.
John Bolton, Mr. Trump's national-security adviser, has suggested that the dismantlement of North Korea's nuclear arsenal should be based on Libya, where leader Moammar Gadhafi agreed to give up his nascent nuclear program.
"It is absolutely absurd to dare compare the DPRK, a nuclear-weapon state, to Libya, which had been at the initial stage of nuclear development," Mr. Kim said.
Some U.S. experts said North Korea's comments may be an effort to strengthen its bargaining position after Trump administration officials asserted their "maximum pressure" campaign had driven the North Korean leader to the bargaining table.
"They are putting down some markers and resetting expectations," said Robert J. Einhorn, a former U.S. negotiator, adding it was a message that North Korea's flexibility shouldn't be taken for granted.
But Anthony Ruggiero, a former Treasury Department official, asserted the comments showed North Korea was still clinging to its decades old strategy of trying to get economic benefits up from while deferring hard decisions on dismantling their arsenal.
"They could have been written in the 1990s," Mr. Ruggiero said of the North Korean statements. "This indicates there has been no change in their thinking."
There have been a number of indications that the U.S. and North Korea may not mean the same thing by denuclearization.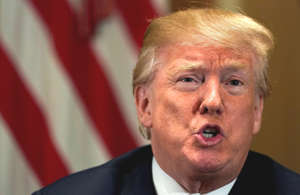 © Reuters Donald Trump Trump administration officials have referred to a speedy approach that might be accomplished within a year under which sanctions relief and economic benefits wouldn't be conferred until the end.
Mr. Kim has repeatedly suggested he was interested in a phased and potentially prolonged approach in which benefits would be delivered along the way.
The Trump administration, for now, appears determined to get Mr. Trump and Mr. Kim together to explore if the gap might be bridged and is seeking to avoid provocations.
After North Korea denounced the Max Thunder exercise on Wednesday, South Korean officials made clear that it wouldn't include American B-52s, a nuclear-capable bomber that worries Pyongyang.
American officials insisted B-52s were never part of the exercise and refused to discuss operations of the bombers, which are stationed on Guam.
A spokesman for South Korea's president on Wednesday said the "current situation is a difficult process" but played down the possibility that the North would back out of the summit between Messrs. Trump and Kim.
© korea summit press/pool/epa-efe//EPA/Shutterstock The North Korean statement focused its ire on Mr. Bolton, who has called for Pyongyang to turn over its nuclear arsenal to the U.S. and commit to "irreversible" disarmament.
It cautioned Mr. Trump that if he follows Mr. Bolton's lead, "he will be recorded as more tragic and unsuccessful president than his predecessors, far from his ambition to make unprecedented success."
"The overwhelming focus on Bolton, rather than U.S. President Donald Trump, is a possible attempt to drive a wedge" between the two, said Miha Hribernik, a Beijing-based analyst for Verisk Maplecroft, a risk consultancy.

Some experts said the North may have been signaling that it wants security concessions—and not primarily economic benefits—from talks with the U.S. Such concessions could include scaling back U.S. military exercises with South Korea, drawing down the 28,500 American troops on the Korean Peninsula or even removing the U.S. nuclear-security guarantee for South Korea.
The threat to walk away appeared to catch by surprise South Korea's Moon Jae-in administration, which has been trying to push for more dialogue between Washington and Pyongyang. As recently as Tuesday, a senior adviser to Mr. Moon said a grand bargain could involve a "big gift" from Mr. Kim to Mr. Trump to build confidence in North Korea's commitment to fully denuclearize.
Robert Kelly, a professor of political science and diplomacy at Pusan National University in South Korea, said it was unlikely Pyongyang would scrap the summit altogether and that the latest rhetoric was posturing meant to improve its bargaining position.
"I don't think the summit will be canceled. I think both sides want it," Mr. Kelly said. "The North Koreans are shopping around for a deal and are trying to see what they can get for them," he added, referring to the country's nuclear weapons.