US pulls out of UN Human Rights Council

The Hill
19/06/2018
Watch: Trump administration withdrawing from UN Human Rights Council (Fox News)
Trump administration officials on Tuesday said the U.S. has pulled out of the United Nations Human Rights Council.

U.N. Ambassador Nikki Haley announced the withdrawal alongside Secretary of State Mike Pompeo, following multiple news reports that the move was imminent.
Haley blasted the council as a "cesspool of political bias" and accused the body of "politicizing and scapegoating countries with positive human rights records."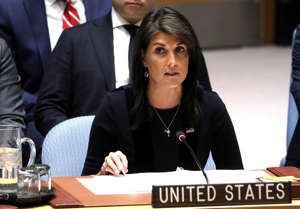 © press association Nikki Haley The withdrawal, which comes as the 47-member body begins a three-week session in Geneva, had been expected as a result of the Trump administration's frequent criticism of the group's treatment of Israel.

Haley repeatedly voted against U.N. measures that were critical of Israel, and she has rebuked the council for what she called a "chronic anti-Israel bias."
The U.S., under former President George W. Bush, initially boycotted the council -- established in 2006 -- but rejoined in 2009 under former President Obama.
© Provided by The Hill Haley has called for other reforms to the U.N. Human Rights Council, saying the group should make it easier to expel states with poor human rights records.
The withdrawal comes as the Trump administration faces scrutiny over its "zero tolerance" policy on illegal immigration that's resulted in migrant families being separated at the U.S-Mexico border.
The U.N. Human Rights Council called for an end to the policy, prompting Haley to criticize the international body.
"Once again, the United Nations shows its hypocrisy by calling out the United States while it ignores the reprehensible human rights records of several members of its own Human Rights Council," she said.
MSN Loneliness Campaign: Could you go a week without seeing anyone? We're helping three charities raise funds for the 9 million people affected by Britain's 'silent epidemic'. Find out more and please donate now.