Washington man responds to his own 'wanted' ad sparking online exchange with police

Indy 100
06/12/2018
A special message from MSN:

While Christmas is a time of joy for most of us, that's not the case for the UK's most vulnerable children and young people. We've partnered with giving platform Benevity to raise funds for two charities - the NSPCC and The Children's Society – to try to help change that. You can help make a difference - please donate now.
A male fugitive has apparently won the hearts of local police – for his response to a wanted ad on social media.
As part of its "Wanted Wednesdays" bulletin, the Richland Police Department posted an ad announcing that Anthony Akers, 38, was wanted by the Washington state Department of Corrections for failing to comply with sentencing.
"Wanted Wednesday! Anthony Akers (38) is wanted by the Department of Corrections for Failure to Comply. If you have any information please call 509-628-0333," the department's Facebook post read.
Five hours later, the ad received a response from an interesting commentator – Mr Akers, himself. Mr Akers told Richland police to "calm down" and that he was going to turn himself in.
However, when Mr Akers did not show up Richland Police reached out via the same comment thread, informing him of their hours of operations and a non-emergency number he can contact if he needs transportation. 
The 38-year-old responded back once again.
"Thank you, typing up a couple loose ends since I will probably be in there for a month," Mr Akers replied. "Should be in there in the next 48 hours."
But after 48 hours passed, Mr Akers still did not turn up—and other people began to notice.
"Has he turned himself in," one Facebook commenter posted.
"He has not," the police replied.
Mr Akers chimed in again, offering an apology to Richland police.
Video: Wanted Man Taunts Police on Facebook for Not Catching Him (Buzz60)
"Dear RPD, it's not you, it's me," Akers added. "I obviously have commitment issues. I [apologise] for standing you up. I will be there no later then lunchtime tomorrow, I know you have no reason to believe me after what I did to you, but I promise that if I don't make it on my own by lunchtime tomorrow I will call for a ride to assist me with my commitment issues."
Mr Akers thanked Richland Police for giving him another chance.
"Thank you in advance to your response if you are patiently giving me another chance with us, I know i don't deserve it," Mr Akers added. "P.S. You're beautiful."
The 38-year-old fugitive still did not show up.
So, the police department responded once more asking for the public's help in finding him.
Gallery: Sketches that helped crack crimes (Photos)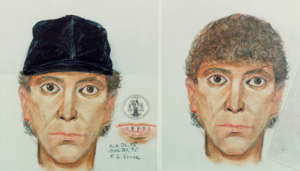 "We waited, but you didn't show," it wrote. "After you stood us up, we reached out again — this time offering you a ride. You replied and said you needed 48 hours."
Richland police pleaded with Mr Akers to keep up with his promises.
"The weekend came and went," it added. "We are beginning to think you are not coming. Please call us anytime and we will come to you."
Mr Akers, however, did end up keeping his promise. On Tuesday, December 4, at 3:29 p.m., Mr Akers turned himself into Richland police.
But not without having the last word.
Mr Akers posted a selfie he took at the police station.
"Here for our date sweetheart," he wrote.