From flipping burgers to Wembley walkouts: The rise and rise of Lawrence Okolie
The Independent
19/09/2018
Lawrence Okolie's leg trembled, his sweat-soaked forehead dipping towards the floor, eyes rolled back to nothing but the whites of a Wembley dressing room. After eight weeks of gruelling preparation within the blood-stained confines of a Hackney boxing gym, he'd been told there wouldn't be time for him to fight before the pyrotechnics began for Anthony Joshua's historic bout with Wladimir Klitschko.
But seventeen months on and the undefeated Cruiserweight Commonwealth Champion has his karmic redemption, guaranteed a premier position on Joshua's undercard this Saturday. Okolie challenges Barnsley's rugged yet rudimentary Matty Askin and, if victorious as expected, will even surpass his mentor by claiming the British Title in just his tenth fight - it took Joshua 15.
In a sport where personality is strained for the sake of commerciality, the former psychosocial studies student has polar personas. In the ring, his confidence is easily misconstrued for arrogance. A hulking 6in 5ft frame gives the impression he is another of boxing's bad boys, a ruthless tormentor who's won all but one of his nine fights by swift knockout. But outside, Okolie's childishly cheeky grin makes that character seem a stranger.
The 25-year-old still lives with his mum in a flat in east London. She cooks dinner for him and his friends as they play their favourite board games, Articulate and Cluedo. Okolie is the group's jocular jokesmith, the one with a loud low-pitched laugh. "I'm not Lawrence who's boxing at Wembley here, I'm just Lawrence," he tells The Independent. "Lawrence from the area, Lawrence from school. I'm not a barbarian, I'm just a boxer."
Video: Okolie confident of victory (Sky Sports)
There isn't the internal anger and acidity of a Mike Tyson or the evangelism of an Evander Holyfield - the first fighters he laid eyes on. Only now, a year and a half into his professional career, has he become entirely accustomed to boxing's brutality.
"I remember the first time I knocked someone out, it was difficult. I felt sorry for them. It was like 'oh wow. Look at him, look at him'. He's crying. His mum's in the crowd," he says sincerely. "But this isn't table tennis or ballet. This is boxing where bodies clash. Where you hit and you get hit."
His doting mum won't watch him fight, not just because of his crude willingness to take a punch to land one, but also because "she knows what I could potentially do to someone."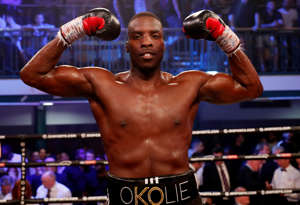 Given his gung-ho style, shaped by his school days in Stoke Newington when he was forced to fend off bullies, it's almost inconceivable that the Spartan athlete was once a clinically obese teenager wobbling the wrong side of 19 stone. "Yeah, I was bullied," he says, his ear-to-ear grin gone for a brief second. "I was overweight, I worked in McDonald's, but it was all part of my journey."
As Okolie flipped burgers in Victoria Station, he stole glimpses of Anthony Joshua's gold medal bout at the London Olympics and experienced a moment of revelation. He tossed aside his grease-sodden apron and began joining gyms, lapping the local park and entering the boxing warehouse he'd come to call a second home. Before the year was out, he'd lost three stone. Today, the knees which struggled to support his adolescent physique only look weak when hurling about his Herculean frame.
"You're going to have people who don't believe in you and people who care about you who want you to take a more secure option. 'Get a job, blah, blah, blah'. They saw the income. They didn't see the dream."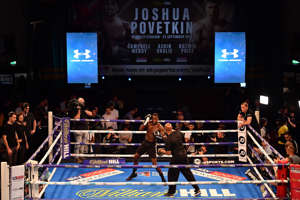 And while he blitzed the amateur process, eventually becoming the most inexperienced British boxer to ever go to the Olympics, he finally came face-to-face with Joshua, the man who inspired his metamorphosis. "It was surreal meeting him for the first time because we were about to have a proper punch-up in sparring." A weight division below, Okolie still trains with Joshua. But he's not just Okolie's idol anymore, he's a close friend and his de facto manager.
He asks light-heartedly if there are any other board games he and his friends ought to try out. "I enjoy the bright lights, the big occasion, the recognition, but this [at home] is what's real," he says. "This is where the heart is."
Even if the cocky TV visage doesn't always endear him to boxing fans after such an outrageous turnaround, Okolie deserves the onscreen swagger. But when he emerges from that same Wembley dressing room on Saturday, clad in a black hooded robe to the rhythm of his own rap song, know that Hackney's heavy-hitter isn't as cold-blooded as he may seem. He may well deliver another expeditious knockout but he's as warm outside the ring as he is fiery within it.