Gennady Golovkin and Canelo Álvarez set for September fight, says De La Hoya

The Guardian
13/06/2018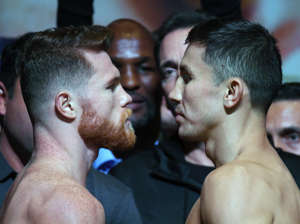 One of the most anticipated fights of the year appears to be back on after it was announced Canelo Álvarez will fight Gennady Golovkin on 15 September.

The boxers had been due to fight on 5 May in Las Vegas but Álvarez withdrew after he was given a six-month suspension by the Nevada State Athletic Commission in connection with a pair of failed drug tests in February. The bout will be a sequel to last year's controversial draw at Las Vegas's T-Mobile Arena.
Álvarez's longtime promoter, Oscar De La Hoya, announced the news on Wednesday. "I'm happy to inform that we have a fight September 15," he wrote on Twitter.
I'm happy to inform that we have a fight September 15!!!! #CaneloGGG2
Feliz De informar que si tenemos pelea Septiembre 15!!! #CaneloGGG2pic.twitter.com/gI3QmR0eXe

— Oscar De La Hoya (@OscarDeLaHoya) June 13, 2018
Golovkin's last fight came against Vanes Martirosyan, whom he beat on 5 May in a bout arranged after Álvarez's withdrawal.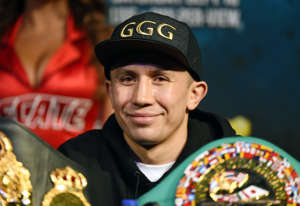 © Getty LAS VEGAS, NV - SEPTEMBER 13: WBC, WBA and IBF middleweight champion Gennady Golovkin attends a news conference at MGM Grand Hotel & Casino on September 12, 2017 in Las Vegas, Nevada. Golovkin will defend his titles against Canelo Alvarez at T-Mobile Arena on September 16 in Las Vegas. (Photo by Ethan Miller/Getty Images)

Álvarez has maintained he did not take banned substances deliberately. "I am truly shocked about what has happened and for those who have doubts and suspicions about my integrity I have always been and always will be clean fighter," he said. "I want to apologize to HBO, Tecate and Hennessy and all my other sponsors, the media and to everyone who is involved in the promotion of this event and especially to the fans. I respect this sport. I will always be a clean fighter."
Golovkin, for his part, called his opponent a cheat earlier this year. "Again with Mexican meat? Come on," Golovkin said.
"I told you, it's not Mexican meat," Golovkin added. "This is Canelo. This is his team. This is his promotion ... Canelo is cheating. They're using these drugs, and everybody is just trying to pretend it's not happening."
Golovkin and Álvarez's first fight sold 1.3m pay-per-views in the United States and generated a live gate of more than $27m, the third-highest in boxing history. Golovkin is the unbeaten WBA, WBC and IBF middleweight champion. Álavrez holds The Ring middleweight title. 
Gallery: Pacquiao, Wimbledon and other World Cup distractions (Omnisport)
A special message from MSN:

Nine million people across all age groups and walks of life in Britain are affected by loneliness. We've partnered with giving platform Benevity to raise funds for three charities - Mind, the Campaign to End Loneliness, and Wavelength – to tackle this debilitating and complex issue. You can help make a difference - please donate now.